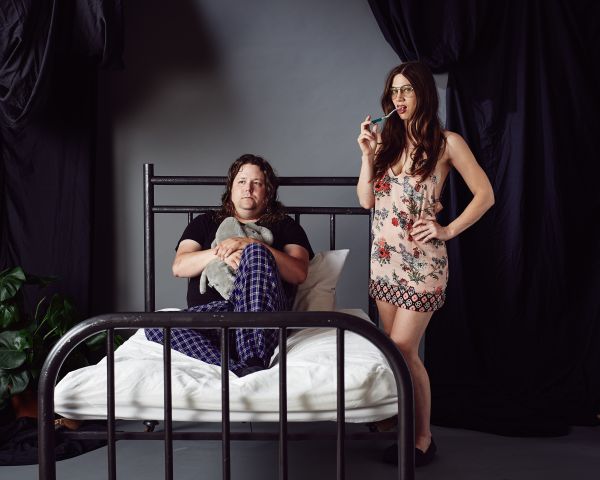 7 October 2019
Djunah – Photo Credit: Dave Rentauskas
Djunah are a noise rock/post-punk duo from Chicago who will be releasing their debut album Ex Voto on November 1st through Triple Eye Industries. They recorded the LP this past March with Converge's Kurt Ballou at God City Studio and it was mastered by the legendary musician and audio engineer Bob Weston.
Djunah (pronounced JUNE-uh) is fronted by the former Beat Drun Juel frontwoman Donna Diane who is known for her raw, aggressive performance style. She pulls triple duty here, simultaneously playing guitar, singing, and pulverizing the eardrums on a massive-sounding Moog bass organ with her feet. Djunah is rounded out by drummer Nick Smalkowski, a veteran heavy hitter from Midwest acts including Arctic Sleep and Fake Limbs. He's also a drum maker who handmade the stave kit he uses.
Odd timings abound on Ex Voto, often molded around Diane's terse wordplay. Many of her lyrics entwine the personal and political, often weaving together topics of sexuality, gender roles, and political crisis. The LP is a full-force barrage of emotional expressions of deep pain, intense sexuality, and personal and political power. Diane's voice frequently shifts from unsettled whispers to explosive ranting, the melodic line often warping under the weight of her words.
On vivid lead single "Animal Kingdom," a nod to the 1932 film of the same name, Diane channels actress Myrna Loy's performance as an on-the-prowl, man-eating socialite, unleashing a torrent of guttural screams, ripping out the words, "Eat out my hand. Rise at my command. She can't hunt you like I do."
The Big Takeover is super-psyched to host the video premiere for the bold "Animal Kingdom" directed by Dave Rentauskas. The eye-catching clip features an electrifying performance from the duo that also shows off the music gear they use.
An insatiable Diane alternately menacingly stalks through the song in a dusky, velvet vocal tone or lets loose with breathlessly pleasurable shrieks amid the relentlessly pummeling, fuzzed-up rock sonics.
Running on unrepentant lust and kicking up a fuss, she playfully musses her hair with her long, spike-tipped fingernails and touches and squeezes various thickly gooey, slick, and hard candy-colored and -shaped objects that represent her prey – or, well, the subject of her, ummm, affection – A kinda scary/exciting position to be in!
Diane opens up about the video's intent, revealing, "The video's our kinky love letter to music gear. We're both gear obsessed. I love gear videos, and I love gear nerds even more. I like the contrast between mechanical and sensual things, so I came up with this idea of crazy stiletto nails touching all sorts of objects."
"I even made the nails I'm wearing as a tribute to audio electronics. They're a set of Genalex Gold Lion KT88s, P-90s, orange drop caps, and resistors. Visually, the video sums up our sound, which is hard and soft, bright and dark, all at once. The director, Dave Rentauskas, did an amazing job of capturing who we are: fun, dramatic, and a little weird."
Pre-Order Ex Voto
TOUR DATES
11/01 – Madison, WI – Wisco
11/02 – Milwaukee, WI – X-Ray Arcade (tickets)
11/04 – Chicago, IL – Empty Bottle (album release show)
Facebook
Bandcamp
SoundCloud
Spotify
Instagram
YouTube
Bands In Town