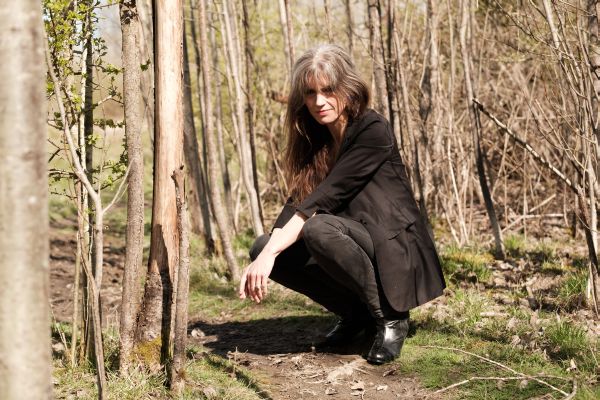 23 September 2021
Claire Tucker – Photo Credit: Tricia Cassels
Mining '80s electronic, synth-pop, rock and New Wave, at first listen Claire Tucker's bold new solo album Interior Monolith seems to be a departure from the wistful chamber-pop sounds of her debut solo EP Same Old Hunters that released last year.
But listen more closely and you'll hear threads that weave through all her work – lyrics that draw you in, the deeply emotive character of her voice, and her killer sense of hook and melody. Tucker is an intriguing artist – restless, prolific, never content to stay in one place, always surprising listeners with new ideas and new sounds.
Big Takeover is pleased to host the premiere of the music video, which was created by Marcy Stone-Francois, for lead single "Automaton."
Backed by a view of deep space with its pinpoint sparkle of stars and glowing nebulas, and superimposed with various graphic designs, Tucker is shown in portrait format, sometimes in duplicate, sometimes even more, performing the song.
Amid images that include swiftly rotating planets, bright triangles, and zippy laser beams, Tucker appears cool and collected, singing atop a mix of grinding guitar lines, ticking percussion, winding synths, and a stead beat.
""Automaton" was among the first few songs I wrote and began recording for Interior Monolith," says Tucker. "It is special to me because I can remember how inspired I felt when it started to come together. It was exciting to make something so sonically different from what I had done in the past and recording at home I felt very free to take a new approach."
Start taking notes
I'm gonna show you how to do it
You're gonna hear my voice talking
Telling you it's under control
I see your mind
I know you read for pleasure
It's almost like you understand
But there's so much you don't know
"The lyrical concept is less of a departure. I occasionally end up writing from the perspective of a character who might not be easy to sympathize with, or maybe even doesn't deserve it. In this case it's a person who is maybe a narcissist, and who dismisses other peoples' value as a default, or only values others to the extent that they can be taken advantage of."
Do I want to get my way with you
Well of course it's crossed my mind
It's the question automatic
When you're standing in my sight
This heart is an automaton
Can't understand how you hurt
It's designed for my survival
And consolidation of my total control
"Interior Monolith isn't a concept album, but one theme that comes up in multiple songs is the exploration of parts of my own mind and character that feel mysterious and impenetrable. I don't think I'm a narcissist, but I do sometimes forget to consider other people's needs and feelings. And when that happens, it often feels like I was compelled by animal instinct, or like it was automatic and there wasn't any way I could have stopped myself. In reality this probably isn't true, but I think that experience is what inspired me to write from the perspective of this character."
Don't try the curse
If it doesn't come natural
You'll always be nervous
Chaperone at the dance
I see inside
You try to move in circles
Beyond your mastery
Playing at dominance
In addition to co-producer, mixer, and percussionist Cameron Elliott, Interior Monolith features pedal steel, guitar, and backing vocals from Tucker's Loose Wing bandmate Bill Patton, and the melodic and languid electric bass playing of another of Tucker's Loose Wing bandmates and her partner, Jack Peters.
Interior Monolith will be released by Drums & Wires Recordings on November 12th on LP, CD, and Digital.
Pre-order Interior Monolith in all formats at Drums & Wires Recordings Website and/or at
BandCamp