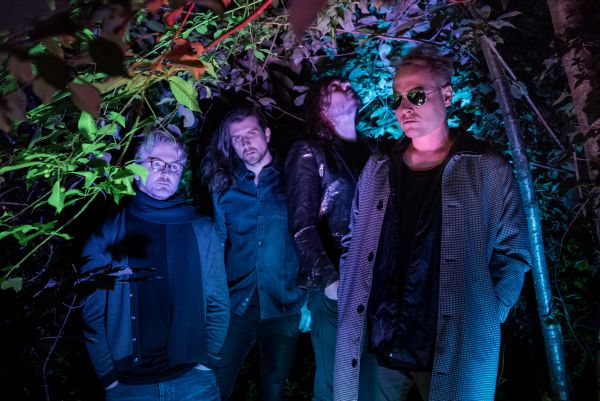 10 June 2021
Amusement Parks On Fire – Photo Credit: Carla Mundy
Acclaimed British alternative/dream/art rock outfit Amusement Parks On Fire return to the fore with An Archaea, their first new album in over a decade. The LP arrives on June 25th via EGB Global in all formats.
The enigmatic band had released their third full length, the raved about Road Eyes, in 2010, but then took a self-described "88-month moratorium" for undisclosed reasons.
They made a surprise reentry in 2017 with the single "Our Goal To Realise,"and in 2018 they delivered the EP All The New Ends, and went on a European tour.
Amusements Parks On Fire have not been sitting idle since then, but have been working on An Archaea, a timeless though also very timely record that is inadvertently a reluctant future relic of a strange and confounding stint in space-time.
An Archaea is an entity that seeks to highlight this abstraction, of life-and-death struggle, that is both fleeting, yet goes on endless cycles. Freedom and even at times tentative optimism are sought through lyrical and sonic catharsis.
Big Takeover is pleased to host the premiere of the vibrant music video for dazzling and driving lead single "Boom Vang."
The video is made up of footage of various flowers changing over time, from bud to bloom, spotlighting the vitality of life in all its natural glory. Colorful and saturated clips of sunflowers, roses, ranunculus, and other flowers are shown opening up their petals to the sun, with golden pollen shooting like sparks across the screen.
The mesmerizing song likewise bursts open with thickly textured, propulsive guitar sweep, glowing bass line sway, emphatic drum bash, and bright cymbals scintillation. Exultant vocals flow in a dreamy stream, buoyed by the restlessly swirling instrumental atmosphere as the track turns into a coruscating miasma by its end.
Pre-order An Archaea at Amusement Parks On Fire's Website:
VINYL
CD
Pre-order An Archaea at Bandcamp
Website
Facebook
Twitter
Instagram
YouTube
Spotify