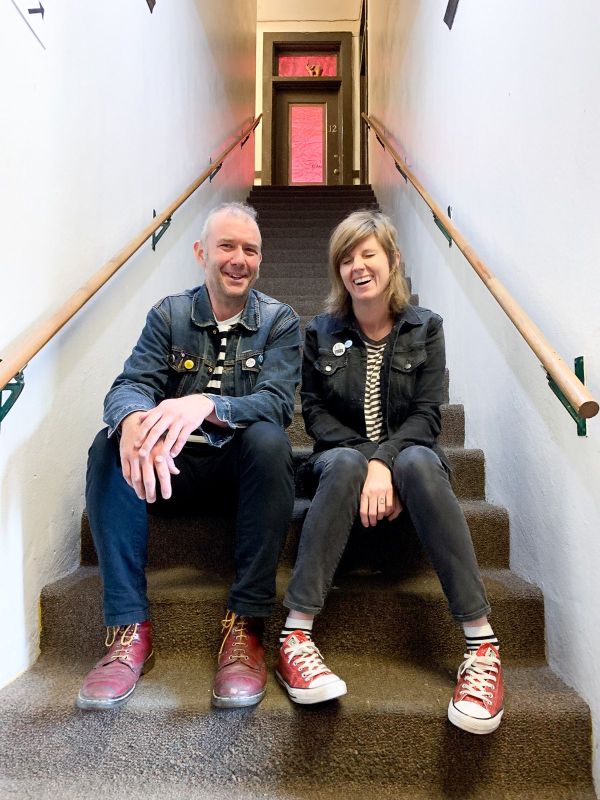 30 May 2019
Stewart Anderson and Christina Riley of Boyracer – Photo Credit: Mario Hernandez at his rehearsal space in Oakland
Boyracer needs to introduction to The Big Takeover circle, so let's drive right into it without looking back in the rearview mirror and zoom into the latest news (New band line-up! New album! New gig! New video that The Big Takeover is psyched to premiere here!) from Stewart Anderson, who has been at the wheel since the band's inception:
"Boyracer, as you know, has had many line-ups over the years. I've kinda lost track, but quite sure there have been over 50 people in the band over time, with me being the one constant. At first that was [because of] logistics, as I traveled around a lot, playing shows wherever I could. But now it's something I actively seek when doing the band. I love playing with new people. And I'm lucky I can dip in and out of it whenever I choose."
[Stew and Jen Turrell, who both currently run Emotional Response Records, and previously 555 Recordings, have been together as Boyracer, and as a couple, for a while, but they recently parted ways relationship-wise.]
"[Not long ago] I was asked by Allan McNaughton from Neutrals if Boyracer wanted to play their [upcoming] record release. At first I didn't think I should, as I've been having a turbulent time of late with Jen and I splitting up. (Its okay. We're still friends and figuring it out). So I thought, Yes, I need to be doing music again right now. So I agreed, but then thought, um, who can I get in the band for the show?"
"I asked Mario Hernandez, longtime friend and beautiful positive person to drum. I have absolute respect for him. He is perfect for Boyracer. He plays in Kids On A Crime Spree, and previously Ciao Bella and From Bubblegum To Sky. Josh Yule of Cruel Summer will be playing bass. I have also known Josh a long time; superb and lovely chap also."
"And Christina Riley from Artsick and Burnt Palms has really brought my songs alive, I feel. I have really loved her input, and I'm super-impressed how she gets it; she totally adds her own direction, different, and complimentary to, my own approach."
Christina chimed in with her view on joining Boyracer and how the video for "Bored and Lonely" was created, commenting, "I'm so excited to play in Boyracer, a band that started in the UK the same time I was in Canada going to Kindergarten. Haha. Pretty cool! So, a while back Stew reached out to me with the subject line, "Do ya wanna be in Boyracer", and I thought, Yes, but do you actually want what I've got? Haha. I didn't know him personally, but he's longtime friends with Mario and Donna who play drums and bass in my new band Artsick. Anyway, after emailing a bit back and forth, I felt confident that I'd fit in OK, so he sent some songs and cheat notes so I could practice for the show in June."
"From there he went ahead and sent me a bunch of new songs for the upcoming Boyracer LP and asked me to add some stuff. It has been great fun contributing to his songs… They are all just so good! I do feel like our voices sound pretty sweet together. When he sent me "Bored and Lonely", I was immediately inspired with a harmony and guitar part."
"I also had a vision right away for a video. I shot my footage at home and sent him the video with black frames where I would insert his footage. It came together easy, pretty much like everything we've collaborated on so far. Fast-paced and fun!"
The video's message is directed at our isolated and disconnected mindset/society, where, through the use of quickly and constantly alternating scenes, viewers see Stew and Christina (both in similar, black 'n' white striped tops) existing in their own separate worlds while still doing similar things.
Even though they have so much in common, they each wander around, house-bound, raiding the fridge for beers/cider, disinterestedly eyeing the Internet, and jamming out on their musical instruments – alone in their own respective homes.
The peppily agitated punk popper is an engaging, yet too-brief swirl of sharp guitar grit and kicky drum hits that are accentuated (by Stew) and smoothed out (by Christina) via sing-song, short-phrase melodies that keep your noggin buzzing like a good brew.
Stew concludes with info about Boyracer's upcoming album, and before that release, a new 3-song single that includes "Bored and Lonely":
"Christina sings on a good chunk of the new LP and absolutely makes the songs sparkle. The LP is pretty much done. It will be called Even Though We're Not Okay, We're Going To Be Alright. I think it will be out in October. Or whenever I get the $$$ to make it happen. I hope to tour with Mario, Josh, and Christina a little around this time [of the album release] also."
"The track "Bored and Lonely" was written with Christina just three weeks ago. It is from a 3-track lathe cut single, with two other tracks also recorded with Christina. It was a great way for myself and Christina to get comfortable writing together."
"It's a quick edition of 100 copies only; all tracks exclusive to the release. The first 50 we gave away free to our mail-order friends, but there will be copies at the upcoming gig [taking place] June 7th at Bottom Of The Hill in San Francisco. We're playing with Seablite and Neutrals, with Joe Gion*l from *Brian Jonestown Massacre DJ-ing. Should be a blast!"
Seablite (album release) / Neutrals (album release) / Boyracer show info at Bottom of the Hill's Facebook
Emotional Response Website
Bandcamp
Facebook