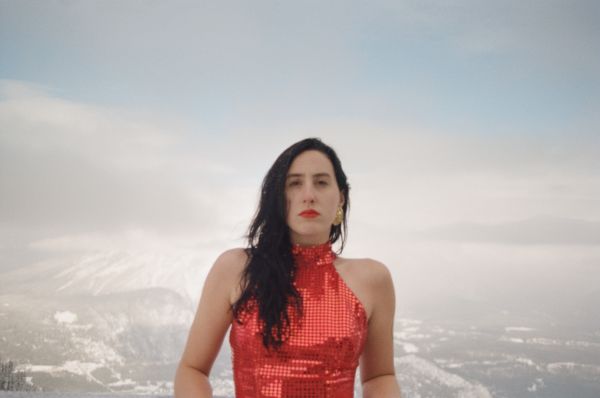 18 February 2021
Marlaena Moore – Photo Credit: Lynn Petrick
Canadian singer-songwriter Marlaena Moore reveals the new music video for her latest single, "Carve," today at Big Takeover. The literally and figuratively cool video was directed by Laura-Lynn Petrick and filmed on the snowy peaks of Banff, Alberta in Canada.
The song "Carve" is a bittersweet delight, slow-burning with a low-end bass line push, spare drum beat, and guitar embers that spark against Moore's emotionally fraught, but ethereally projected vocals.
"Carve" is taken from Moore's recent album Pay Attention Be Amazed.
The video clip spotlights Moore dressed in flame-red outfits (and not a parka in sight!), performing the song in the snow-covered mountainous wilderness in what must be deep-freezing temperatures. Braving the snow and cold as if it were a summer's day, Moore poses against and whirls around spectacular backdrops of the natural world.
Speaking on the making of the video Moore says, ""Carve" is an especially vulnerable song for me, it was written from one of the darkest times in my life. To be recalling that time while frolicking in the snow was quite something, but Laura-Lynn was so good at making me feel so safe and confident in what we were doing, I happily gave her all my trust and I couldn't be more proud of the result."
"I wanted to make something breathtaking and surreal for "Carve"," explains director Laura-Lynn Petrick. "The cold, inhabitable rocky mountains were a heavenly backdrop for the song's strong emotive qualities! Marlaena was angelic amidst it – with a true fierceness – embracing the snow, negative temperatures and brutal winds with such spirit."
Pay Attention Be Amazed follows Moore's critically acclaimed 2016 record Gaze. Moore has supported accomplished acts such as Angel Olsen, Jennifer Castle, Julie and The Wrong Guys, and Chad VanGaalen.
With the help of Chris Dadge and Chad VanGaalen on production—and several instruments—and a crew of musical artists Moore calls, "unbelievable human beings with ungodly talent," Moore's latest full-length record fills out and strengthens the sound she has been building for years, while simultaneously gesturing at where her work can grow.