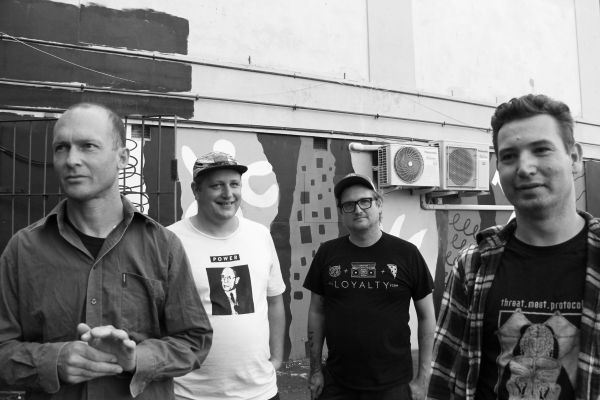 12 June 2020
Swallow the Rat – Photo Credit: Kate Brebner
New Zealand indie rock/post-punk band Swallow the Rat is comprised of musicians from various other outfits, as well as being connected to the US through one of its members. Their compelling and uncompromising debut album, Leaving Room, was released via Shifting Sounds April 24th.
Swallow The Rat's unique musical chemistry is rooted in a merging of worlds. Guitarist/vocalist Sam Vercoe, drummer Hayden Fritchley, and bassist/vocalist Stephen Horsley had been playing with one another in various projects throughout the Auckland music scene for years, but it wasn't until guitarist Brian Purington — a native of Austin, Texas — moved to New Zealand and began collaborating with Vercoe in 2017 that Swallow the Rat was born.
Adding Purington's uniquely American influences and vibrant psychedelic flourish to Vercoe, Fritchley, and Horsley's foundation of wiry New Zealand post-punk resulted in the collision of driving riffs and hazy atmosphere that defines Swallow The Rat's sound.
The new band released a self-titled 7" and quickly began gaining momentum in the Auckland live circuit before turning to producer/engineer Nick Abbott (Foals, Pulled Apart By Horses, Robert Plant) to record their first full-length at North-Western Recorders.
Big Takeover is stoked to host the premiere of the atmospheric video for "Cold Moon," a psych-driven, post-rock track off the album.
The song pushes forward with an emphatic pace and whirlpools of reverb-drenched guitars that back relevant lyrics that speak to disenfranchisement with unfit leaders and hostile societal norms. Vercoe exclaims starkly the potent words, "It's time / to not be so unkind / It's time to follow your own mind."
The video clip was shot in black and white by Fritchley, and focuses on the life of the band on the road and playing shows. Details like preparations for live performances, especially their gear and set-up, are highlighted.
These going-on's are intercut with a fleeting stream of clouds and landscapes passing by from the viewpoint of a vehicle's window as the band members move from one venue to the next.
Vercoe reveals the meaning of the track, stating, ""Cold Moon" is about unfit leaders who lack understanding and compassion for people and the world around them. As a community we can hold onto the good aspects of humanity by remaining independent of thought regardless of the actions and opinions of those in positions of power."
"I also wanted to evoke a sort of mantra, so it was important to use repetitive lyrics to achieve a hypnotic sense to the song."
Fritchley adds details about the video clip, commenting, ""I had compiled some footage from one of our NZ tours and began slicing it up with other incidental observations. There's a reflective, introspective vibe to the song which worked with my documentary approach to moving images."
Get Leaving Room via Shifting Sounds' Bandcamp
Facebook
Instagram
Swallow the Rat Bandcamp