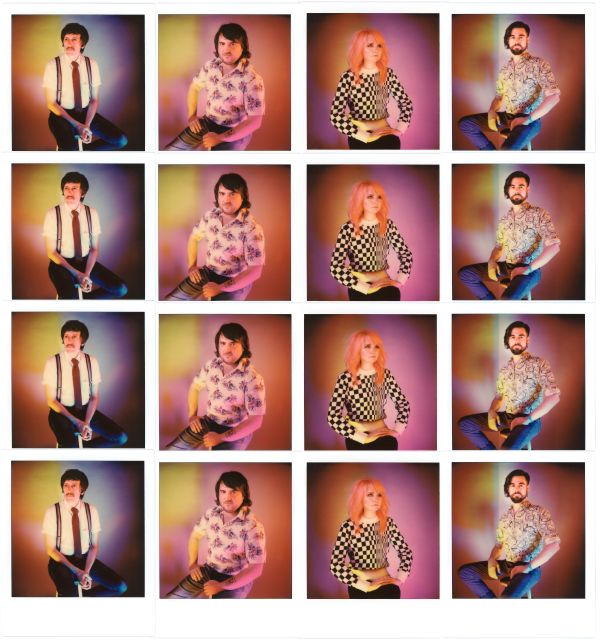 14 February 2019
Waterfall Wash – Photo Credit: Savannah Scruggs
Waterfall Wash is a four-piece fuzz pop act leading the charge of an indie rock scene in Nashville, Tennessee. This band feels like an old friend you've just met, but if that friend happens to be goofy and strange, and also manages to put on a killer live show that will have you humming their songs for days.
The band creates a sound that blends lo-fi, ambient white noise with a more hi-fi synth-pop aesthetic, yet somehow subliminally hints at their collective southern roots. Together, their contributions result in a sound that no one else could match.
The Big Takeover is proud to premiere Waterfall Wash's spellbinding new offering, "Colors." Lead singer Michael Roddy describes the song, stating, "'Colors' is Waterfall Wash's oldest/newest song. A version was already recorded and ready to go, but we opted to force those older tracks to resign in favor of a Lowrey organ drum machine and a Gibson hollow-body squealing through a pair of dimed amps. A later attempt to capture an as-big-as-possible drum sound led to a relentless drum track that drives the song through the blinding haze of Juno synths. We found that `Colors' needed to be destroyed in order to be finished, a painful process at first, and it was this process that showed us the beauty of contradictions that work together in harmony."
At just under five minutes long, "Colors" is paired with a video that's equally as mind-bending as the song…Roddy relates, "The song's theme of contradictory ideas working in harmony carries over into the video for `Colors' with its playfully surreal setting. If you ever ran thru the woods during your nightmares as a kid, you'll really enjoy this video. What initially frightens you, could become your friends… Who knows?"
There's discordance and a slight unease throughout, marked by a hazy quality to the footage and oversaturation of the colors. At the end, we're still left wondering what it is he's running from or searching for. Roddy further explains, "'Colors' is a bad dream inspired by rhythmic chaos and the anxiety of love."
Waterfall Wash are poised for big things in 2019. We'll be watching (and listening), and we recommend you do the same.
Website
Facebook
Twitter
Instagram