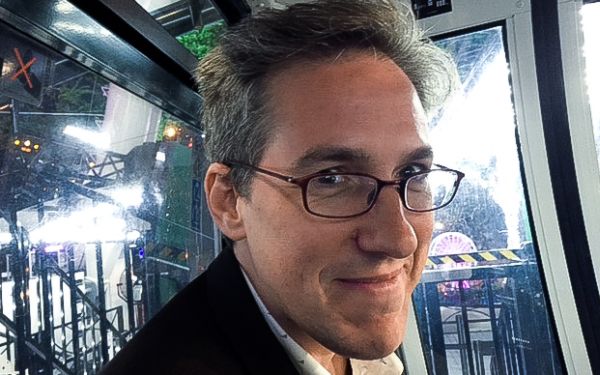 17 October 2018
Tris McCall – Photo courtesy of Tris McCall
The name Tris McCall is well-known throughout the great state of New Jersey. Firmly established as both a prolific music essayist (he's written for The Newark Star Ledger, NJ.com, and The Jersey Beat) and a passionate, whip-smart songwriter, his musical vocabulary runs deep.
The essay he wrote that ties into his brand new single "Conspiracy Theory" demonstrates that he's given his subject matter some obsessive thought…
""Conspiracy Theory" was written in response to an article I'd read in the December 4, 2015 Washington Post that suggested conspiracy theory was on the wane. That did not correspond to my experience of the world. Most of the people I knew seemed sold on one conspiracy theory or another, and weren't entertaining contradictions. What's more, at the time, several candidates for very high office were aggressively pushing conspiracy theories. It seemed to me that it was virtually certain someone would soon ride a conspiracy theory to a position of great power. So on December 5, 2015, I wrote this essay, and then later that afternoon, I wrote the song. I posted the essay a couple of weeks later, and I've been singing the song ever since."
What separates McCall from other artists with a similar academic approach to music is that unlike most, he knows when to get out of his own way. He's not weighed down by the burden of his own intelligence and the need to flex his scholarly or musical ego. Instead, he chooses pop-infused indie rock as the vehicle to deliver his music. Think Elvis Costello doing calculus. On paper it may sound complex, but press play, let the music do the talking, and it becomes an easy listen that is so enjoyable that you may not even realize that you're learning something in the process.
Directed by award-winning filmmaker George Pasles (who also performs alongside Tris in NJ indie rock band Overlord), the music video channels a peculiar form of American madness. McCall lurks around a confined basement space, leaning in towards the camera with the kind of body language that feels like he's about to drop some crazy thread on anyone who catches his gaze. As he serenades the camera, the great conspiracies of our time (JFK, faked moon landing, 9/11, Paul is Dead, etc.) flash across the screen.
"Conspiracy Theory" is a part of The Unmapped Man, a collection of songs from McCall's Almanac, an ongoing web-based project. The Almanac is an open-ended collection of storytelling songs set in different cities throughout the United States. Using an interactive map at the site, visitors can select a city, and they'll get a song, a short story from the perspective of the narrator of that song, a cartoon, and even a few tourist tips. In total, the Almanac will spawn two full-length albums of incredibly unique, insightful, and introspective songs that makes the country feel a little bit more in sync. It's all connected.
Website
Facebook
Twitter
McCall's Almanac