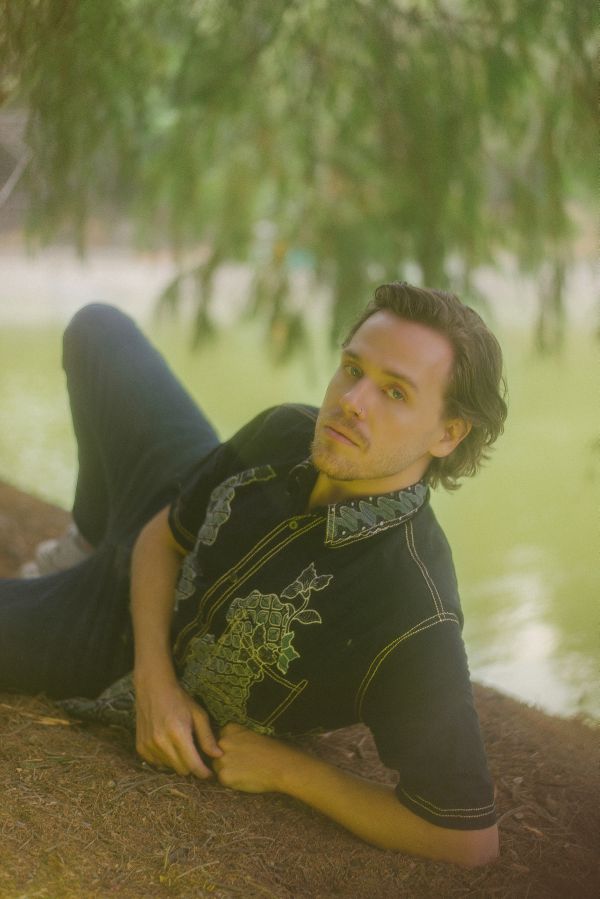 19 September 2019
Kris Kelly – Photo Credit: David Mesa
Brooklyn-based singer-songwriter Kris Kelly recently released his captivating and lyrically nuanced chamber pop debut album Runaways this past August.
Originally from Austin, Kelly moved to NYC at the age of 17 to attend NYU, where he studied classical vocal performance and music composition. For years he performed his own compositions for guitar, vocals, flute, violin, bass, and percussion at many popular NYC venues.
Kelly then spent five years traveling through South America with just his guitar and a suitcase. Living mostly in Argentina and Brazil, Kelly met his husband, and his travel experiences inspired the core of Kelly's Runaways. Themes of pure love, loss, discovery, and growth inform the LP.
When Kelly returned to the U.S., he recorded Runaways between NYC and LA with an all-star team of musicians. The album features Kelly on acoustic guitar and vocals, with string/wind/horn arrangements by John Philip Shenale (Tori Amos), Todd Sickafoose ("Hadestown", Ani DiFranco) on bass, Brian Griffin (Lana Del Rey, The Lone Bellow, Brandi Carlile) on drums, David Levita (Alanis Morrisette) and Benji Lysaght (Father John Misty) on electric guitar, and Dave Palmer (Fiona Apple, Lana Del Rey) on keyboards.
Kelly self-produced Runaways and it was mixed by Noah Georgeson (Joanna Newsom, Devendra Banhart, Andy Shauf). About the album, Kelly divulges, "When I first started writing the songs for Runaways, I had just embarked on a journey and I had no idea where I was going to end up. I left New York for Brazil and ended up staying in South America for over five years. Looking back on it, I was searching for something: for love, for home, for connection, for freedom, for peace."
"Along the way I often got lost, but in the process I grew. Runaways is a collection of very personal songs I would sing to myself when I felt alone, confused, hopeless, and needed to turn inward to process my struggle. I hope people will be able to relate to the universal themes in the songs and that they might find comfort in seeing their own experiences mirrored throughout the album."
Early track "We Flew" (which was only released via social media) and official singles "Birthplace" (its accompanying video was premiered at Parade) and "Cracked Porcelain" (premiered via Glide Magazine have emerged over the past few months. The whole album was premiered at The Deli a few days before it officially released and also streamed at Impose
The Big Takeover is deeply elated to host the premiere of the deftly created, eye-catching video for the reflective and poignant single "Cracked Porcelain".The video was directed and animated by Jack Kubizine (Animal Collective, Panda Bear) and Steve Winfield Meyer, who follow and flesh out Kelly's story-telling lyrics with a riveting visual narrative.
The song itself flows with fluid, harpsichord-like guitar lines, the heightened pull of stringed instruments, a gentle,shaken rhythm, and is graced with Kelly's airy and longing vocals.
The video's animation is equally supple and enticing, focusing on two friends on what becomes a fantastical exploratory journey in an unknown and magical land. The duo's curiosity and blind willingness to slide into temptation gets the better of them by video's end. It's a very relateable story done in a rich and compelling animated style.
Kelly delves into the meaning of the song and video, revealing, ""Cracked Porcelain", the song, is about a relationship that ultimately falls apart due to overindulgence, seeking fulfillment in temporary pleasure, and getting lost in a world filled with alcohol, sex, and drugs. I approached Jack Kubizne, who had animated videos for songs by Animal Collective that I really loved, about animating a video for "Cracked Porcelain.""
"We spoke at length about what the song meant to me and how we might bring it to life in an animated video. Jack ended up presenting a narrative revolving around two guys who stumble upon mysterious ruins. Inside, they are entrapped by an invisible force that provides an endless feast for the two until they start to lose control and awareness."
Looking towards the future Kelly comments, "There are two more music videos on the way, one for "More" and one for "I Hope It's Not Too Late", both of which I'm really excited about. I'm also planning live performances for November in NYC and L.A. (venues and dates to be confirmed soon)."
Runaways is available on all streaming platforms
CD & 2LP Limited Edition Vinyl is also available via Bandcamp
Spotify
Website
Facebook
Instagram
Twitter