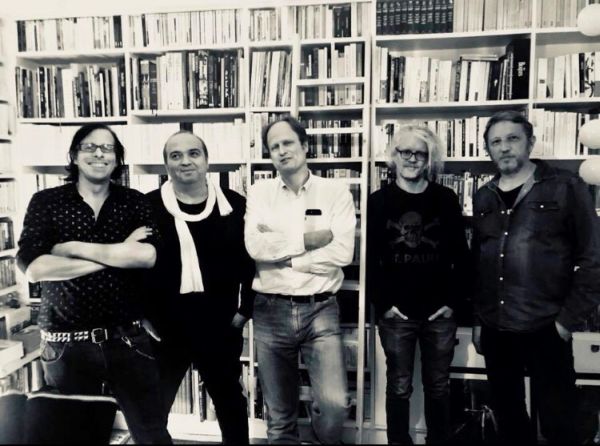 10 July 2019
Salt – Photo courtesy of Beehive Records
Salt is a French-American band formed in 2016 during sessions for the Supercalifragile album by Game Theory in Abbey Road Studios in London. The band was formed around Ken Stringfellow (Posies, R.E.M., Big Star), Anton Barbeau, and Stéphane Schück, all collaborators and friends of Scott Miller, despite never having met prior to recording that album together in Studio 2 at Abbey Road.
Joined by Stéphane's old bandmates, Fred Quentin on bass and Benoit Lautridou on drums, Salt rehearsed in Berlin and Paris to create a first album, The Loneliness of Clouds, which was recorded in 2017 in London (once more at Abbey Road) and in Paris. This debut record came out on June 7th of this year via Beehive Records to excellent reviews
Produced by Ken Stringfellow, the album contains 10 tracks, summarizing the common influences of members, from the Beatles to XTC, R.E.M. and Game Theory. Stéphane Schück's guitars echo those of Ken Stringfellow, and the keyboards and voice of Anton Barbeau mingle with Ken's harmonies. The songs on the Salt debut were written by Schück, with Barbeau "translating" many of the lyrics from heavily French'd English into a more standardized tongue.
The Big Takeover is super-enthused to host the premiere of the engaging performance video for the vocally smooth, yet peppery track "Crime Spree", one of the many tasty tracks from The Loneliness of Clouds. While the video shows mostly the band members playing the song, their sonic get-together is inter-cut with footage of the cities of Paris and Sacramento.
Filming all the bandmates performing 'together' was no small feat, as video director Julia Boorinakis Harper recounts:
"We shot two Salt videos in two days in Paris, in a blessedly air-conditioned rehearsal studio during blistering summer. "Miracle Soul Powder" got the full-on green screen treatment, but for this one, we wanted to go with something more naturalistic — a band in a room, playing off each other, doing their thing. The trick was that only half the band was in any room at any given time! I filmed the bits with Ken in Sacramento, while he was in town on a Posies tour — [and a] video shoot in Anton's dad's living room, squeezed in between soundcheck and gig. Somehow, through the 'magic of editing', we managed to throw everybody together (and transplant Subterranean Homesick Blues to a Paris street scene, no less!)."
Singer Anton Barbeau follows up, stating, "I think Julia's said much of what can be said about this clip, but I'll add that the coffee machine in the rehearsal hall kicks out cappuccino for 60 cents a cup. Two videos in two days? Not a problem! And yeah, the studio air conditioning was further incentive to work long hours. Maybe the main thing I'd say is how much a pleasure it is to be part of this gang, this Salty little family. That comes across on film, non?"