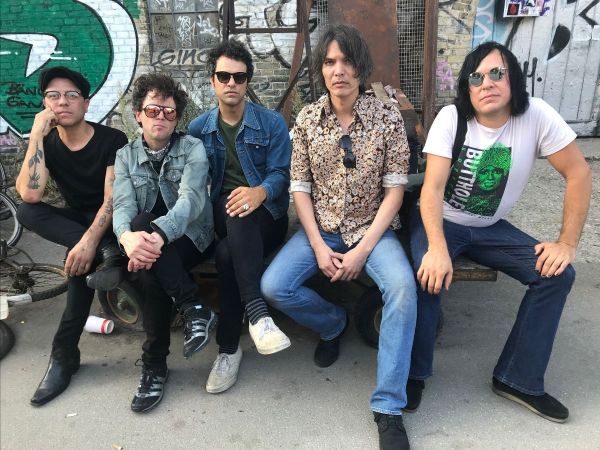 26 March 2020
The Warlocks – Photo Credit: David Deresinski
Acclaimed veteran Los Angeles-located psychedelic rock band The Warlocks are gearing up to release their 10th studio album, The Chain, on April 3rd via the renowned Cleopatra Records.
"Creamy, dreamy, glass breaking-style storytelling," describes frontman Bobby Hecksher (vocals, guitar, keyboards, bass) of their soon-to-be released psych-steeped LP. He's joined by bandmates John Christian Rees (guitar, feedback), Earl V. Miller (guitar, drone machine), Christopher DiPino (bass), Cesar A. Reyes (keyboards), and Jason "Plucky" Anchondo (drums).
The lyrically conceptual The Chain was recorded by the band over the course of a few weeks and co-produced by Hecksher and Rob Campanella at Campanella's Figment Studios in Lake Hollywood. From the hammer falling on you ("Dear Son") to not being able to escape the system ("Mr. Boogieman") to somebody not being who they really are ("Double Life") to making mistakes and time passing you by ("I'm Not Good Enough"), The Warlocks examine life and our justice system.
That concept, Hecksher affirms, is based around "a Bonnie and Clyde-ish twenty-something couple who rob a bank but get caught and then are cast down the bottomless pit of our justice system. The main characters, Rocky and Diamond, come from different means and thus have very different outcomes. It's a loose collection of 'you got f*cked and swept under the rug' type feelings revealed amid happy songs about their relationship, provided as a kind of relief."
First single "Double Life" was recently released and now Big Takeover has the pleasure of hosting the premiere of the compelling story-telling video for "Dear Son." While the song itself is a hazily dreamy reverie, the actual events that transpire in the video are bold and life-changing for its protagonists.
The aforementioned couple of Rocky and Diamond prepare to rob a bank, and then go about doing so in methodical fashion, even getting away with it for time… But the law catches up with them and their pipe dreams explode in their faces, leading to a handcuffed Rocky standing in court in an orange jumpsuit, sentenced to do time, and being taken away to prison with a look of regret in his eyes…
Delving into the backstory of the song and video, Hecksher states, ""Dear Son" is the first song in our story and the start of the album The Chain. The lyrics "Make-up is dripping off my face" and the verse to follow loosely signify the crime being committed itself "The hammer has fallen on you" is the judgement of that action. Our fictional caped crusaders commit the crime and then each one pays a different price for that crime. As I explained, the album is about justice and what that translates to with people with different backgrounds and means. One rich, one poor – and the different paths they end up on."
"In the video, we see them commit the crime and get caught. The Warlocks are playing to the fictional movie as if scoring it or writing music to it as its happening. Our male lead Rocky (played by Tygh Runyan) influences our female lead Diamond (played by Leslie Gladney) by fear to do the crime and her lawyers plead this. She's loosely a Patty Hearst-type character and gets off. Rocky gets a public defender and the book is thrown at him."
"I like to emphasize loosely, because the album was made in two weeks and not 100% fleshed out with every song being part of the justice theme. For example, "We Don't Need Money" is an older song that sort of worked with the concept. In this day and age where everything is totally budget, we're only able to pull off the first few minutes of the movie and concept. Still, I think it came out great. Hopefully, it gets across [that] there's a story with heavy/important meanings in there."
You can also check out lead single "Double Life" below:
Website
Facebook
Twitter
Instagram