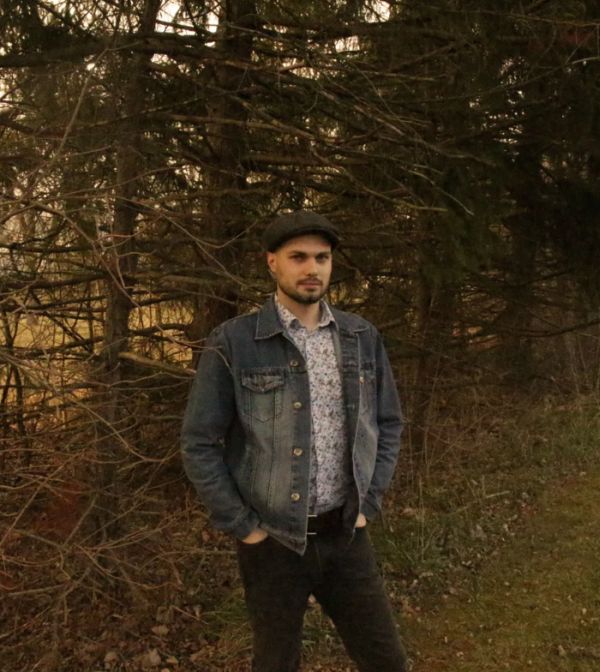 12 May 2021
Chase Potter – Photo Credit: Jess Betz
One of the hardest aspects of songwriting is matching the mood of the lyrics with the tone of the music. While the two compliment each other, sometimes lyrics can negatively affect a gorgeous piece of music or vice versa. However, songwriter Chase Potter doesn't seem to have that problem. His new, uplifting pop masterpiece, "Don't Roll Over," links retro and modern sounds into a shiny and distorted subtle symphony.
Beginning with pulsing guitar chords and swirling vocal harmonies, "Don't Roll Over" is a reinterpretation of '60s sounds while still sounding fresh and modern. Reminiscent of Sound & Color -era Alabama Shakes, Potter's guitar tones are perfectly crafted. Overdriven, but not muddy. Full of echo, but not a wash. This guitar tone centers the whole song.
As the song builds and changes, layers fade in and out so naturally. Subtle leads somewhere between guitar and synthesizer peek out from behind the distorted chords, and percussive elements add a heartbeat-esque thump to the second half of the song.
Perhaps what's most intriguing about this track is that the music feels very controlled. Not in a restrictive way, but in a way where Potter feels as though he knew exactly what he was going for with each part added to the song. Nothing gets in the way, and everything blends together so well. It's just good writing.
Big Takeover is pleased to host the premiere of the music video for "Don't Roll Over," which was directed by Scott Siskind. The video echoes the sentiments of the song lyrically. The hand-drawn style of the images fits with the overall timbre of the song. The warm colors – pink, red, cream, and hazel – really just echo the warmth of the recording.
From the world on fire to fragmented faces, Potter seems to be saying that humanity has the potential to fracture at any point. But, the key is to not give up hope.
Videos don't have to convey the message of the song. Sometimes, they are just to show performance or to reveal what the band looks like in motion. But, Potter's interpretation of "Don't Roll Over" in visual format adds even further dimensions to the song.
Bob Dylan once sang, "I'll know my song well before I start singing." Potter knew this song well before he pressed record. If you're looking for a modern pop song with just a touch of '60s nostalgia, look no further than Chase Potter's "Don't Roll Over."
Chase Potter kindly participated in an interview exclusive to Big Takeover:
Lyrically, this song seems to be a letter to both yourself and the world. What was the original inspiration for the song?
"To be completely candid, the first inspiration for this song came from people starting to talk about George W. Bush with a nostalgic tone during the Trump years. Obviously, Trump was an abomination, but using Trump's abhorrent nature as a means to justify the heinous acts of the Bush administration is insulting to those who were direct victims of the horrors of that administration globally. Just because Bush could complete a coherent sentence (unlike Trump) does not make him any less evil or worthy of glorifying."
"Although this was the initial inspiration for the song, I wrote it in a very open way to where it can be applied to any situation of abuses of power. I thought of the lyrics "Don't Roll Over" as either rolling over in one's grave, or when two people are in an argument in bed and one person rolls over to avoid further conflict. I'm sure many of us dream of telling those who abuse power how we really feel about them, and this song is my attempt at portraying those emotions."
The balance in the mix is truly perfect. How did you go about arranging the song to get all the subtle layers of guitar and pads?
"Thank you so much! I have to give huge props to my mixing engineer Matt Peiffer for making all of the sonic pieces fit together. Basically, I started with the main guitar and the vocals and then added things piece by piece until it felt like too much, then removed a couple of things here and there and ended up with how it sounds now. I wanted it to feel on the brink of chaos but still retaining a steady pulse with a simple melody to give people something to latch onto."
This song has a really light percussive element, which is not true of a lot of songs with overdriven guitar. Could you talk more about how you decided on the percussion for "Don't Roll Over?"
"The percussion was actually the last part that I added to this song. I had gone back and forth in my head if I wanted to add a beat to it or not, and decided that if I did, I would want it to be pretty extravagant and "messed up" sounding for lack of a better term. One night I started messing around with some stuff just for the heck of it and decided it was cool enough to keep. All of the drum sounds were samples that I already had in a sample library on my computer, but I took a lot of time to manipulate them sonically. I put some in reverse, messed with the pitching, panned them across the stereo field, added some delays to some, etc."
Did you record this song during the pandemic? What was the recording process like?
"I actually started recording this song right before the pandemic hit. I recorded the main guitar at my parents' house in their stairway. They live in an old Victorian era house and have an incredibly high ceiling in the stairway. I angled the amp upwards towards the ceiling, put two mics right on the amp, and put two more halfway up the stairs pointed at the ceiling to make it sound as huge as possible. I'm really happy with the end result. Everything else was recorded in my bedroom, some of which was during the pandemic. I do a lot of my own recording engineering and usually have been able to get pretty good sounds just out of my bedroom."
What's next for you?
"I have a full-length album that I will be releasing this summer called Hitchhike To Oblivion that this single will be on, plus two other singles that I have released in previous months. Other than that, just continuing to scrape my life back together after this last year of COVID and continuing to make music!"