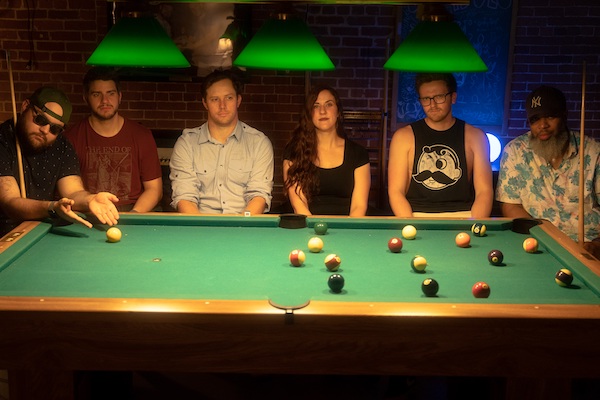 31 January 2022
Molly Maguires – Photo Credit: Rob Santos
It's safe to say a pandemic has overstayed its welcome when it's still around after a newly formed rock band records and releases their debut LP, delays a tour due to the pandemic, records and releases their second LP, tours behind that album — and then releases a follow-up EP to boot.
Come February 11 — when Molly Maguires issue their new EP, The Mona Lisa Beverage, — the Rhode Island-based anthemic rock band will have done exactly that. And the Big Takeover is pleased to exclusively premiere the video tied to a song from that short-player, "Don't Tread II," today.
Molly Maguires cofounder JJ Sorensen told the Big Takeover that Rob Santos from RFS Visuals made the video using footage from one of the band's live performances (at AS220 in Providence, RI); and material from a session at Big Nice Studio in Lincoln, RI. 
"I think he really captured the retrospective element of the song with some sorta retro-looking flair on the studio footage," Sorensen said. "And, of course, when you have [cofounder] Meghan [Earle] doing her thing, just capturing the essence of that is always going to work."
Check out the video right here:
Sorensen and Earle — who previously played guitar with pop/R&B musician Alaura Lovelight — launched Molly Maguires in 2019 after meeting at Framingham State University in Massachusetts. Weaving together garage-rock with some violin passages while remaining rooted in classic rock 'n' roll, the band issued their debut album (Public Enemies) in April 2020, followed by their second record, That's My Story, in June 2021.
Drawing from the genre-agnostic aesthetic of the late 1960s and early '70s, That's My Story is bold in its diversity; the record nods to raucous brawlers, country twang and folk traditionalists, brassy ballads and drinking songs.
The band decided to release The Mona Lisa Beverage as a standalone EP because it consists of songs that were recorded during the same sessions as That's My Story but proved too mellow for inclusion on that release.
Go here to preorder Molly Maguires' new EP.
Molly Maguires-related links:
Molly Maguires' Instagram
Molly Maguires' Facebook