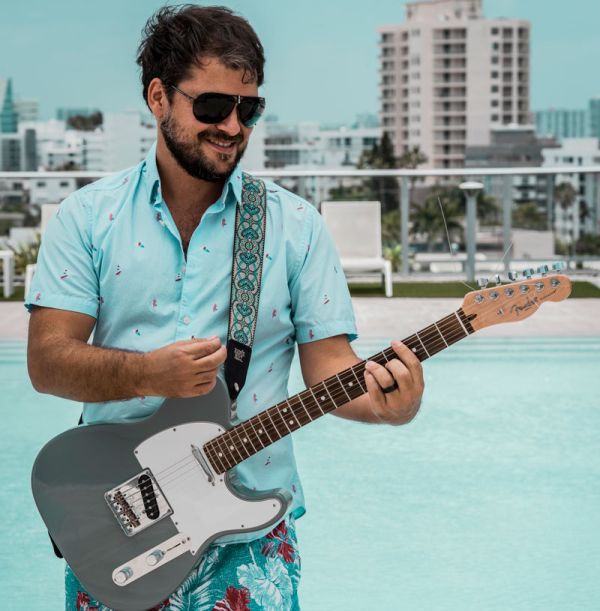 20 May 2020
Ex Norwegian – Photo Credit: Christopher Esqueda
It's been over a decade since Roger Houdaille decided to form a band around his songwriting and it's been a non-stop vehicle ever since. With 9 studio albums alongside tons of non-album material, Ex Norwegian has remained a constant force in the world of underground melodic pop/rock.
Two new albums arrive in 2020: Hue Spotting and Spotting Hues, with both out June 5th via Beyond Before. The LPs see the band go in a more psychedelic direction while maintaining their guitar-driven rock/pop roots.
The records combine late '60s/early '70s styles and production techniques that perfectly compliment the material, with the latter album being a collection of interpretations of obscure psych tracks.
Big Takeover is stoked to host the exclusive live session of two of Ex Norwegian's songs, "Comfort Sands" and "Jet Lag." The band convened in the studio, recording these two resonant tracks right before the world shut down.
The stomper "Comfort Sands" comes from the new album Hue Spotting, while "Jet Lag" is a shoegaze rocker off of 2010's Sketch album (which was also included on 2019's Something Unreal: The Best of Ex Norwegian compilation.
Performing with Houdaille in the video are Giuseppe Rodriguez (bass), Vic Kingsley (guitar), Tatiana Blades (vocals), and Joe Rodriguez (drums).
The musicians are all in one room – such a beautiful sight in these austere days of self-isolation – with headphones on and instruments put to good use as they perform with heartfelt enthusiasm. Psych-steeped and fiery indie rocker "Comfort Sands" contrasts a chugging rhythm section with at times floating guitar lines, until it finally spirals into an intense and trippy ending.
"Jet Lag" kicks with an emphatic drum beat and roils with a low-end bass line, waves of cresting guitars, topped off with melodic and emotive vocals from Houdaille and Blades – and the welcome addition of rippling saxophone blasts.
Hue Spotting and Spotting Hues are available to order HERE and HERE, respectively.
Linktree
Facebook
Instagram
Twitter
Website