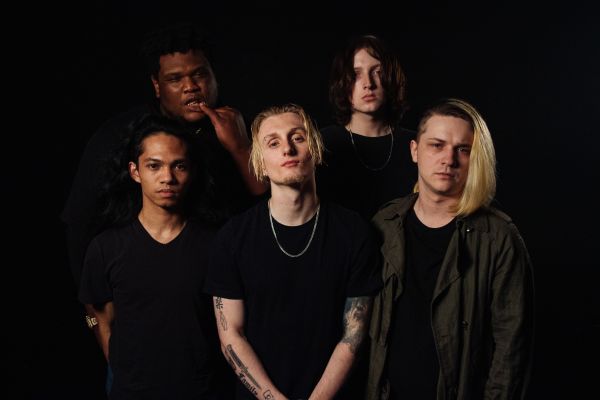 13 May 2021
Love Ghost – Photo Credit: Taylor Lamb
Los Angeles-based alternative rock band Love Ghost have re-materialized with their latest song, the potently emotive "Fade Away (Shave My Head)."
The track is a return to the roots of the grunge music which inspired the members of Love Ghost to make music in the first place. The lyrics of "Fade Away (Shave My Head)" delve deeply into mental health issues; about the constant need to change something in order to feel okay.
Lead singer Finnegan Bell unveils some details about the song, commenting, ""Fade Away. (Shave My Head)" is a straight-up grunge song. I came in with the guitar idea, Cory Batchler [Love Ghost keyboardist, backing vocalist] offered some great suggestions, and then the entire band really came through and added their individual flavors to it. This song was a complete collaboration, and Daniel Alcala [Love Ghost guitarist] mixed the song."
"The theme is really about constantly wanting to change something so you can feel comfortable in your own skin. The song captures what it feels like for me when I'm on the edge. I've been to that dark place before and I hope that me screaming about it can help someone who is dealing with that currently."
Big Takeover is pleased to host the premiere of the raw and gritty music video for "Fade Away (Shave My Head)." The video was directed, filmed, and edited by Taylor Lamb.
In the clip Bell delivers a powerful performance of someone in the throes of torment. He's surrounded by his bandmates playing their instruments, and they passionately give it their all, they're shrouded in dark shadows and are only illuminated at times by strobes of blinding light.
Love Ghost create alt-rock music that includes elements of emo and trap styles. The band members combine live guitars, bass, and drums with trap 808 beats and electronic elements. Their song crawl into a space between ethereal grunge and lo-fi bedroom hip-hop punctuated by emotional delivery and airy hooks.
They've been featured on official playlists on Spotify (New Noise numerous times, and Alternative Beats), Apple Music (Breaking Hard Rock repeatedly, Fresh Blood, Rise, and Grind), SoundCloud (Fresh Pressed, Amped Rock, and Rock for Running), and Pandora (New Punk Now numerous times).
Love Ghost were featured on the alternative radio charts for 2 months in 2020. Their songs have generated millions of streams and views across all platforms. The outfit's music videos have won over a hundred top film festival awards from around the world.
LOVE GHOST
Website
Facebook
Instagram
Twitter
YouTube
Soundcloud
Spotify
Apple Music
Deezer