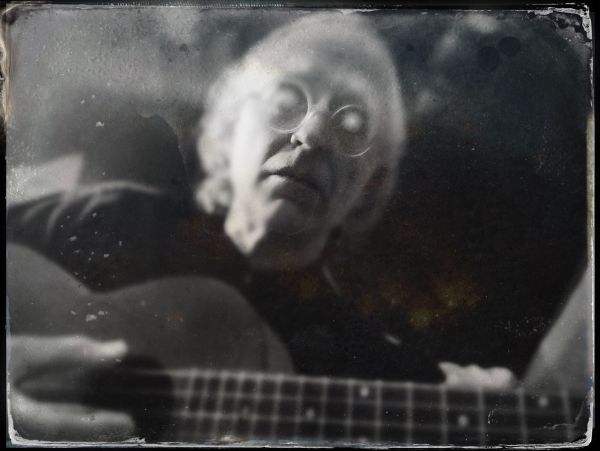 2 December 2021
Kramer – Photo Credit: Kramer
Legendary producer (Galaxie 500, Low, Ween) and artist (Bongwater) Kramer is back with his first solo album in two decades this Friday, December 3rd, via his revamped Shimmy-Disc record label and Joyful Noise Recordings.
Entitled And the Wind Blew it All Away, the LP of completely original material follows up 1998's Songs From The Pink Death. The new record was produced and recorded entirely by Kramer in his home studio in South Florida during the COVID-19 pandemic.
Alongside the record's release comes its focus track, "Falling Skies," with an accompanying music video. Big Takeover is pleased to host the premiere of the atmospheric and reflective video.
Nostalgic images of blazing sunsets, birds flying in the sky, old-time vehicles, and a woman and children walking over a hill slowly move into and out of view. Meteors, quickly changing storm clouds, and the faces of older men also glide along, a reminder that time never stays still, and is always passing by.
Love, however, is a constant entity for those who love someone for eternity…
Kramer's work in music covers a vast spectrum of sound, unified only by an unwavering commitment to experimentation and collaboration.
As a bassist and multi-instrumentalist, he's toured with The Fugs, Shockabilly, Jad Fair, Danielson, B.A.L.L. (his band with Don Fleming), Gary Panter, and with Butthole Surfers on their infamous 1985 debut European tour. At his Noise New York and Noise New Jersey studios, he's produced and recorded hundreds of artists, including Daniel Johnston, Royal Trux, White Zombie, Pussy Galore, Mo Tucker (ex-Velvet Underground), and Half Japanese.
While he has operated successfully on the extreme fringes of 20th century American indie music, Kramer has also shown an equal mastery of 'pop' music, producing influential recordings by artists like Galaxie 500, Will Oldham, and Low. Kramer also scored a bonafide hit in 1994 as producer for Urge Overkill's take on Neil Diamond's "Girl, You'll Be a Woman Soon," chosen by Quentin Tarantino for his second film, the Palme D'Or winning Pulp Fiction.
But it was the creation of his Shimmy-Disc label in 1987 that would prove to be one of Kramer's most enduring achievements. It was therein that Kramer coalesced his varied talents as a producer, curator, and musician/collaborator into one inextricably linked whole. In the words of Joyful Noise Recordings' founder Karl Hofstetter, "His label became his art medium."
Through Shimmy-Disc, between 1987 and 1998, Kramer released over 100 albums from a fascinating roster of artists that included WEEN ("The Pod"), gore metal heroes GWAR, King Missile, John Zorn's Naked City, Japan's noise rock masters BOREDOMS, and Kramer's collaboration with magician Penn Jillette, The Captain Howdy, to name but a small few.
In 1998, Shimmy-Disc unfortunately went under and Kramer quit making music for a long while.
Now living in South Florida, Kramer found the time to wonder whether or not, if, in the future, he had the chance to run a record company again, he would by then have become mature enough ("or crazy enough," in his own words) to actually take that chance. In 2021, after a 23 year hiatus, Shimmy-Disc was born again…
Kramer generously took some time to reply to some questions about his new output and specifically "Falling Skies.":
Going into releasing your first record of solo material in a few years, did it feel as though you had a lot to say once you began writing? Can you describe that process?
"I felt as though I had little to say that anyone would care to hear. But I always feel that way. Always. It seems impossible for me to talk about my feelings, so I rarely try. But writing prose and then setting it to a soundscape that compliments it, is a natural, organic experience I keep coming back to. I've never regretted creating a song. Perhaps that is why I haven't stopped making them yet."
How would you describe this album to listeners who have yet to hear it – is there a general thread that weaves throughout, or does each track speak for itself?
"Each track speaks for itself, but in the aggregate, there is an obvious string tightening around the LP. Anyone who listens, even peripherally, can hear it. If I strove for any one result in the making of this LP, it was that it be 'universal' in that sense, just as a photograph of two people embracing or kissing is instantly understood by anyone who looks upon it. There's no question about what's being represented there. And nothing else matters."
Is there a particular reason you chose "Falling Skies" as this record's final single/focus track? Can you describe the story behind it, if there is one?
"Always tears are falling, like falling skies. There is someone I will Love forever. Nothing will ever change that. Nothing. No matter what she did, or does, or thinks, I will go on loving her. Even if the sky is falling. It's that simple. I'm just trying to prove that Love is immortal and eternal, and this song is my proof. It's the spindle around which the rest of the LP revolves."
Facebook
Mastered by Kramer Website