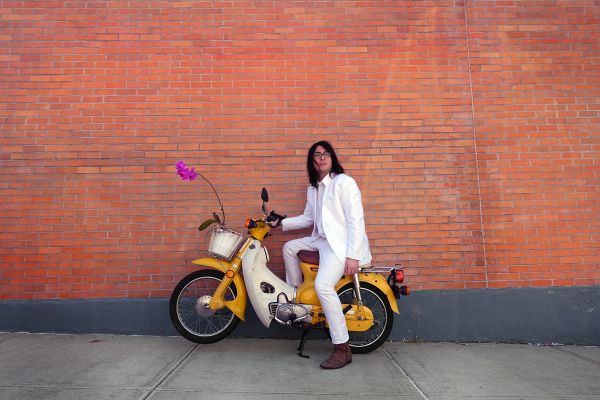 9 September 2020
Ilithios – Photo Credit: Andrea Defelice
Brooklyn-based artist Manny Nomikos (previously of Gracie Mansion, Pow! Wow!, and Coyote Eyes), working under the moniker Ilithios (his first solo venture), is readying to release a new album via Totally Real Records (the imprint of Bryan Bruchman, guitarist for Mount Sharp and radio host on Break Thru Radio) and Stereoactive Media.
The project came into existence during the pandemic with a focus on honing a live stream performance that allows Nomikos to connect from quarantine.
"Florist" is the title track off of Ilithios' forthcoming debut album and Big Takeover is pleased to host the premiere of its accompanying music video.
Lightly pensive vocals float through the track that's augmented with a meld of chiming guitars, low-growling electronics, and added vocals strands. The longing feeling of the song translates to the video as well, which features Nomikos trying to communicate – and connect – through dance, but not getting through to the recipient of his attentions.
Nomikos delves into the meaning of the song, explaining, ""'Florist" is about being out of sync. The lyrics feel like a conversation between two people, or a person with themselves. Never feeling satisfied, or feeling like a disappointment, but still clinging or reaching out of sheer desperation. Ultimately the song asks that you look closer, without overthinking and beyond self doubt, and just be together."
For the clip directed by Jen Meller, Nomikos reveals, "In the video, the protagonist is performing an elaborate, but somewhat foolish dance, in what feels like an impassioned plea for a connection, but is met with indifference from a mysterious person in a mask. They spiral into depression, ennui, attempts at therapy, but ultimately find peace with themselves through a consult with a psychic. As one does."
Bandcamp
Facebook
Twitter
Instagram