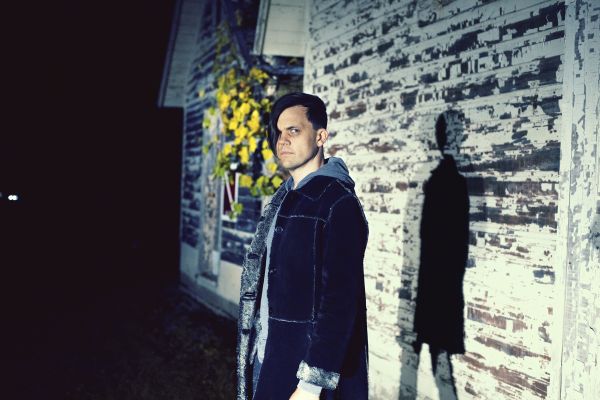 29 July 2020
Seeming – Photo Credit: Benjamin Torrey
Seeming is a project led by New York-based author, theorist, and composer Alex Reed. The outfit's third full-length album, The Birdwatcher's Guide to Atrocity, landing on August 21st via Artoffact Records
Menacing but vulnerable, furious but intimate, Seeming's post-industrial music is on the fringe of a new generation of heavy, dark, cerebral pop.
Seeming broke out in 2014 with its Madness & Extinction LP, earning an Album of the Year award from darkwave tastemakers I Die: You Die. Second album SOL: A Self-Banishment Ritual, released in 2017, was named Album of the Decade by UK blog A Model of Control.
The Birdwatcher's Guide to Atrocity is the next step in Seeming's realization of music tied closely to meaning, and of exploration and reinvention. Relevant messages are urgently delivered in an intense to reflective style via Reed's passionate vocals, pressing synths, and pounding drums.
The album was co-produced with renowned avant-garde percussionist Sarah Hennies and features a guest vocal by Bill Drummond of legendary, inscrutable, UK duo The KLF (It's Drummond's first recorded vocal appearance in two decades!).
Reed compositions communicate with a radically progressive fervor about the social, political, and environmental crises of today. The album is startlingly in sync with the news headlines of summer 2020, though the songs were composed prior to these events:
Big Takeover is extremely pleased to host the premiere of the video for "Go Small," a lyrically epic track with big meaning about our deeply unsettling times.
The synth-based alt-pop song starts off with a peppy restlessness, kicking up with a bright synth patter and thunderclap drums, and then builds into a whirling storm of intense percussion and synths/electronics before dissipating into a calmer atmosphere.
Reed sings with a heartfelt directness, briefly touches upon hot-topic issues in the world at large, including the refugee crisis at the U.S. border and "45" (AKA the disastrous and disrespectful 'president' of the United States). He even presciently mentions a "virus," and how Earth (well, us humans) is inherently "suicidal" (How else would you describe our wanton destruction of each other via war/politics/etc. and and decimation of the only planet we live on?).
But, despite all this, Reed wants us to hold on to something while at the end of our rope. That something may be hope, may be a way to escape, or may be a means of mental/emotional survival…; to "go small" by holding on to what you know and love; to keep in mind what has meaning in your life.
As Reed puts it in a beginning verse, "Write the song / you need to hear… / When the world is drowned in flames / write something you can understand / Go small…" , because the big picture is overwhelming and defies comprehension…
The engaging and earnest video clip is a reflection of this idea of going small, showing Reed camped out in the forest in a makeshift cabin away from the crush of society and all its calamities and catastrophes.
Reed puts it all in perspective, explaining, "I recorded the vocals for "Go Small" outdoors in the Pyrenees mountains one morning last summer. The birds you hear are real. It's a song about clinging to a vital sliver of sanity by focusing only on what was right in front of me: a room, a garden, my own hands. The drums feature Sarah Hennies and Aaron Fuleki. Its video was filmed in lockdown, at a shack in the woods of Ithaca, NY. When the world is run by cruel and greedy men, it's hard to "go small," but that intimacy and focus really saved me. This is a song for recentering—all without forgetting your rage. It feels like life under quarantine. It feels like 2020."
Pre-order The Birdwatcher's Guide to Atrocity
Bandcamp
Facebook
Twitter
Instragram
Tumblr
Spotify