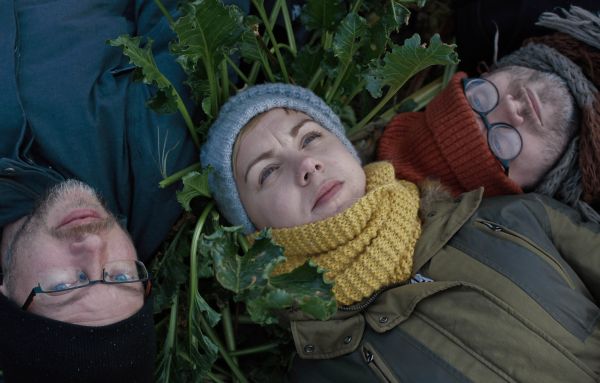 14 January 2020
Broads and Milly Hirst – Photo Credit: Kelly Robb
A lot of attention is on UK bands this week – we earlier introduced you to Norfolk-based electronic collective Broads in our premiere of 'Let Me Take It from Here'. A few years and several releases later, we have the pleasure of premiering their new collaborative single 'Happisburgh' with vocalist/songwriter Milly Hirst.
'Happisburgh' (pronounced 'haze-bruh') is built around ideas of a town disappearing into the sea – history being rendered in front of us, and future folk tales falling into place. The accompanying video, most fitting considering the thematic, was filmed and edited by Mark Jennings.
The video features the natural landscape surrounding a lighthouse under a bright sun and misty blue sky. Giant boulders, sandy cliffs, scrub-grass outcroppings, and of course the lulling lap of the waves appear, but so does the outskirts of the town nearby that may not withstand the forces of time and climate change…
We can thank Mike Nyman for making music such as this part of our psyche – the tracks here are an attestation of that, as well as a nod to Harold Budd and Philip Glass. Ukraine's Endless Melancholy also comes to mind. This wispy, expansive, and calming journey feels like home and it's a place worth returning to again and again.
Set for release on January 31 via Humm Recordings, this beautiful minimalistic composition is the A-side of two track offering. The B-side is called 'Red Pits'.
This track is a calm introduction to Ollust, their new long-play with Hirst – another leap into the unknown – an almost-entirely analog album built around pianos, drones, field recordings, and wordless vocals. This is not the first time Hirst has worked with Broads – you can hear her on previous tracks 'Young Grizzlies', 'Sometimes I Feel Like I'm a Terrible Dad', and most notably 'Climbs'.
Ollust (which means 'Always' in the local dialect) is something of a departure for the Norwich-based 2-piece. The lush, layered electronics of Field Theory and its follow-up A Small Box Over a Global Goal have been stripped away, and replaced with minimal, cyclical piano pieces and treated field recordings. These central elements are offset by a variety of droning synths, various acoustic instruments, and the hypnotic voice of the folk starlet.
Since Mark Jennings joined James Ferguson as Broads in 2017, they have released 2 albums of mostly-electronic song experiments – 2018's Field Theory and 2019's A Small Box Over a Global Goal – both on their own imprint, Humm Recordings.
A slow transition through genres and approaches has resulted in a broad back catalog – from the lo-fi guitar/RS-09 scratchings of 2013's self-titled debut LP, through the tense atmospherics of Hellas (2015) and Everything Is Spinning… (2016) and the glittering electronics (with occasional guitars) of Field Theory and A Small Box….
"The tracks take inspiration from Norfolk locations, landscapes and culture – In preparing for the album, we had lots of days out in obscure locations across the county, where I made hours of field recordings and Mark took video footage, which he used as a guide for writing his piano parts at home," says James Ferguson.
"The county of Norfolk is rich in history, contradiction and oddity, and the three of us wanted to create a document of all of these things. It's a beautiful, frustrating, exciting, forward/ backward place to live, and after almost a quarter of a century making music here it seemed high time to pay tribute to the environment that has shaped our sound and our approach to art over such a long time."
As of January 31, 'Happisburgh' will available everywhere digitally. The full _Ollust'_album will be released on Friday, February 21 on CD, 12" vinyl, and as a digital download, including on iTunes and Spotify. It can be pre-ordered via Bandcamp
Thanks to support from Arts Council England, in April 2020, Broads and Milly Hirst will also embark on a 6-date tour of the locations referenced in the track titles, together with visual artist Liam Roberts, who will manipulate local archive film footage live at each performance.
CREDITS
Mark Jennings – pianos, Korg Minilogue, vocal
James Ferguson – programming, field recordings, MIDI synths, guitars, Moog Sub-37, vocal, Philicorda GM754, Analogue effects
Milly Hirst – vocals, viola, Roland GR55GK guitar synth
Happisburgh, Strangers, Thetford written by James Ferguson & Mark Jennings
Oulton, Octagon, Dereham written by James Ferguson, Mark Jennings & Milly Hirst
Recorded at Humm by JF, at Suffolk Square by MJ, at The Sickroom by Owen Turner and on location around Norfolk
Mixed by Broads and Owen Turner at The Sickroom
Mastered by Owen Turner at The Sickroom
Photography by Kelly Robb
Cover poem 'August Bank Holiday' by Jack Underwood
Live visuals by Liam Roberts
Supported by Arts Council England
BROADS & MILLY HIRST TOUR
02 April 2020 – Octagon Chapel, Norwich
03 April 2020 – Thetford Guildhall
04 April 2020 – Oulton Chapel
05 April 2020 – Strangers' Hall, Norwich
10 April 2020 – Happisburgh St. Mary's Church Rooms
11 April 2020 – Dereham Memorial Hall
Check out Hirst's previous collaboration with Broads from their 2018 Field Theory album:
Keep up with Broads
Bandcamp
Facebook
Twitter
Tumblr
SoundCloud
Instagram
Keep up with Milly Hirst
Website
Facebook
Twitter
Instagram