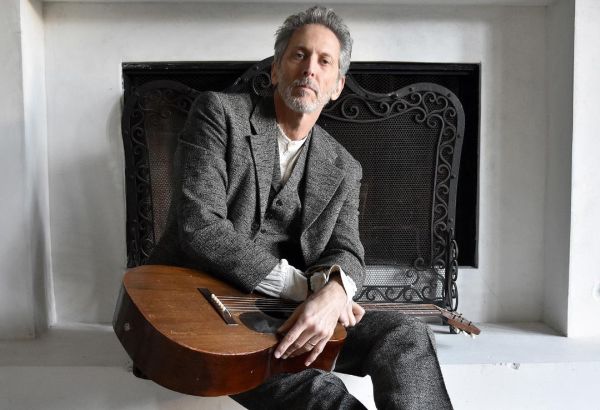 12 August 2019
Rob Laufer – Photo Credit: Diana Laufer
Los Angeles-based musician Rob Laufer will be releasing his latest solo album, The Floating World, on August 23rd. His previous solo LP was released in 2010. Any question about why Laufer has released only a handful of albums in this interim is answered by a look at the length and breadth of his work as a musician, songwriter, and producer.
Laufer recorded with the Pixies' Frank Black, Welsh songstress Katell Keineg, and Fiona Apple (that's his guitar on her Grammy-winning single "Criminal"). He's also produced CDs for Melissa Ferrick, Dirk Hamilton, and OK Go.
Laufer's songs have appeared in TV shows (Scrubs, Felicity, Melrose Place), movies (In the Land of Blood and Honey, Ramona and Beezus, and Baby Mama), and ads (the award-winning HP "Frames" commercial and a series of Sears ads with Johnny Cash, Shawn Colvin, and B.B. King performing his songs).
Laufer even appeared as a member of the Wrecking Crew band in the Brian Wilson biopic Love and Mercy. His first major gig was portraying George Harrison in the stage musical Beatlemania! In 1999.
His solo artist muse woke up shortly after Tom Petty's death and the first songs Laufer wrote for The Floating World happened at that time. While re-listening to Petty's music, he was struck by the songs' economy and unfussiness. The message he took away was: "Just write the goddamn song!"
Taking that philosophy to heart, Laufer crafted the power pop and alt-folk songs on The Floating World with precision, passion, and vision. The Big Takeover is pleased to host the premiere of the colorful "Hippie Love" that's loaded with far-out '60s imagery.
The lyrics of the upbeat folk song are uplifting to bittersweet as Laufer chronicles what it was like to grow up in and a be a part of the Decade of Love. At once a deeply personal recollection and a historical narrative, the video showcases images and footage of the hippie lifestyle of the '60s.
The journey is full of searching and celebration; of looking for and finding a place to belong; connection and letting go of, or at least re-forming, past ties; and above all, a life to live in freedom, peace, and harmony.
Laufer is also musical director of the fabled Wild Honey Orchestra which performs an ongoing series of all-star benefit concerts for the Autism Think Tank in Los Angeles. Most recently the ensemble performed the Kinks Village Green Preservation Society album this spring which featured over 50 musicians and singers including the Cars' Elliot Easton, REM's Mike Mills, Blondie's Clem Burke, Blur's Graham Coxon, Yo La Tengo's Ira Kaplan, and Rachel Haden & Anna Waronker from That Dog.