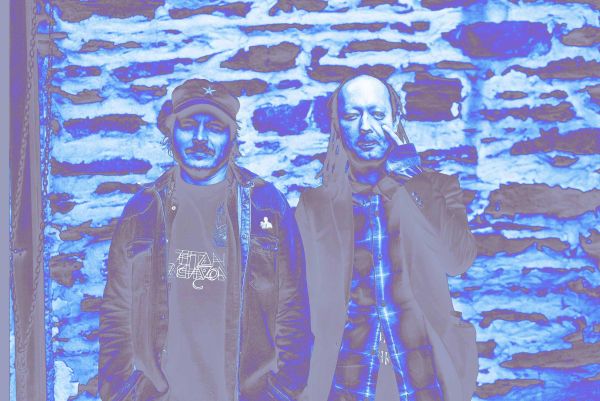 16 November 2021
Travis Duo – Photo Credit: Alexey Novikov
Imagine a more abstract take on Shakti with John McLaughlin, Mahavishnu Orchestra or Ry Cooder with Vishwa Mohan Bhatt, bring in and give free reign to several orchestra members, slow it all down and add a more psychedelic avant-garde jazz element to it. You would end up with Jarvis Earnshaw and Trevor Dunn's TRAVIS DUO. And namely, the song 'Hitherto'.
Today we present you the trippy glitchy and color-contrast-filled video for this song, which features Daniel Carter, a renowned jazz veteran of the NYC underground jazz scene who has played with many notable artists, including Yoko Ono, Sonic Youth, Jaco Pastorius, Yo La Tengo, William Parker, Cecil Taylor, and Sun Ra.
With their artistic world revolving around Brooklyn and its thriving underground cultural scene, Earnshaw and Dunn – both long-time music veterans themselves – will soon release their first collaborative album under this name. The inspiration behind this long-player, titled 'Hypnagogia' (\.hip-næ-'gä-jia. of or pertaining to the period of the transitional state between waking life and dreams: hypnagogic hallucinations) is a set of line drawings and diagrams drawn during lucid dreams.
Trevor Dunn is perhaps best known as a member of Mr. Bungle, but he also has a history with such artists as Fantômas, John Zorn, The Melvins, Diatom Ribbons, Trio Convulsant, Endangered Blood. Here, he plays contrabass and percussion, while Jarvis Earnshaw (SYRINX-Series , Question, Harbinger, the Luke Stewart and Jarvis Earnshaw Quartet) contributes sitar, tapeloops and vocals.
Recorded and mixed by legendary producer Martin Bisi (Sonic Youth, Herbie Hancock, Afrika Bambaataa, DNA, White Zombie, Ginger Baker, John Zorn) at his BC Studio in Gowanus, Brooklyn, this album was mastered by Josh Bonati (William S. Burroughs, Zola Jesus, Beaks>, Mort Garson 'Plantasia', Slowdive, Jenny Hval).
'Hypnagogia' is bold and honest, weaving a tapestry of colours and pushing abstractions. They present an impressive hybrid of styles, whilst gently nestling on their pop roots. The kaleidoscopic overtones of the sitar dance elegantly with the charismatic and eloquent contrabass. This is psychedelic ethnic-flavoured jazz with a mean right hook.
The duo is joined on this album by several well-achieved musicians, including saxophonist Devin Brahja Waldman (Godspeed You! Black Emperor, Thurston Moore, Notable Deaths) and drummer Niko Wood (Shake The Baby Til The Love Comes Out). Also, Daniel Carter (Yoko Ono, Jaco Pastorius, Yo La Tengo, Sun Ra) plays saxophone and flute, while Sean McCaul (Philip Glass Ensemble 'Naqoyqatsi') plays xylophone.
"This album is a meeting of minds that cross generations, timelines and genres, as if ancestral cheerleaders were egging us on. The personnel age gap on this record spans 50 years, the youngest being in his 20s to the oldest in his 70s. Every member is a highly distinguished unique musician in their own right and at the top of their field, creating gorgeous music in every genre, pulling inspiration from our vast experiences of life – from Abstract Noise, Punk, Jazz, Rock, Hiphop to Chamber music and beyond. This has magically shaped this album, which extends beyond genre and is pure expression at its finest above and beyond boundaries," says Jarvis Earnshaw.
"I grew up in backwoods bumblef*ck countryside Japan and would have never imagined that I would be playing music with my hero Trevor Dunn. I still remember the first time I heard his band Mr.Bungle smash open my head with the bottlecracking 'Travolta'. 13-year old me was obsessed with the band, which has really shaped the person I am today. Martin Bisi, the humble legend, has produced most of the music I listened to growing up, which can probably be said by a lot of people. In many ways, this is a dream-come-true album and I still keep pinching myself or perhaps this is all just a lucid dream."
London-born, Jarvis Earnshaw spent most of his childhood in Japan, releasing his debut album via Slam Records at the age of 15. Since graduating Bunka Gakuin Art School in Tokyo, he studied sitar in India, and is a graduate of Pratt Institute in New York. Both as a musician and visual artist, his work is recognized worldwide, having solo exhibitions, residencies and performances throughout the world, including Fuji Rock Festival, Europe, India and across America to New York's own Lincoln Center.
As of December 10, 'Hypnogogia' will be released as a limited edition of 500 albums on dark blue vinyl. The seven core tracks come with one bonus, 'Lolloping Theta Broom Horse', and a16-page full-colour booklet. It can be pre-ordered directly from Earnshaw's web store HERE or via Bandcamp
TRACK LIST
A1 有頂天(Uchouten) Sab Kuch Milega
A2 FAQ ft. Daniel Carter, Sean McCaul, Devin Brahja Waldman & Niko Wood
A3 Orchid Hoodwink ft. Sean McCaul
A4 Fair Weather Friend
B1 Hitherto ft. Daniel Carter
B2 UnCanny Valley ft. Devin Brahja Waldman
B3 Folie à Duex {aka "Lonely Woman" written by Ornette Coleman
+ Bonus Track 'Lolloping Theta Broom Horse' ft. Daniel Carter, Sean McCaul & Devin Brahja Waldman
CREDITS
Recorded & Mixed by Martin Bisi at his BC Studio in Gowanus, Brooklyn
Mastered by Josh Bonati
Re-Mastered for Digital Media by Evan Strauss
Catalogue #B9-008
All songs written by TRAVIS DUO Jarvis Earnshaw & Trevor Dunn
except 'Folie à Deux/Lonely Woman' by Ornette Coleman Trevor Dunn – contrabass and percussion
Jarvis Earnshaw – sitar, tape loops and vocals
Daniel Carter – saxophones and flute (Track 2, 5 + bonus track)
Sean McCaul – xylophone (Track 2, 3 + bonus track)
Devin Brahja Waldman – saxophone (Track 2, 6 + bonus track)
Niko Wood – drums (Track 2)
'FAQ' ft. Daniel Carter, Sean McCaul, Devin Brahja Waldman & Niko Wood HERE
More jazzy elements can be noted in 'FAQ', which and more 'world' flavor in 'Fair Weather Friend', which is an ode to Ernie Washingon:
TRAVIS DUO / Jarvis Earnshaw
Website
Bandcamp
Instagram
Facebook
Spotify
Apple Music
Shop