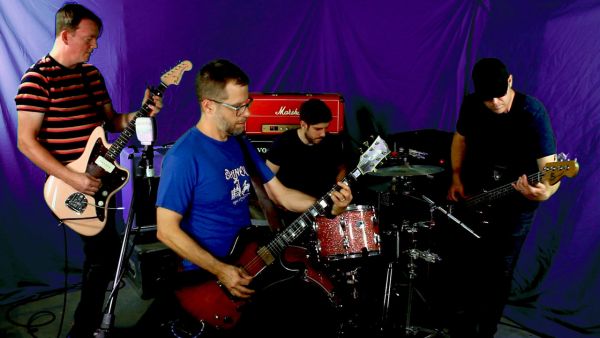 7 October 2021
Startographers – Photo Credit: Craig Knapp
Startographers are an alternative rock/post-punk band from Austin, Texas that includes members of notable outfits Magnet School, Honeyrude, and Schatzi.
In April 2017 Magnet School did a US Tour with Honeyrude, and the bands got along super-well and had a bunch of successful shows. Brandon Tucker (Magnet School) and Ian Lund (Honeyrude) had several late-night conversations about starting a band someday since they had so much in common with their tastes of music.
They eventually got together at Lund's studio space in Nov 2018 to jam. It was immediately apparent that there was an undeniable musical connection, so they began writing songs. Lund suggested bringing Matt McCandless, the original drummer of Honeyrude, on board to play drums, and the three of them continued writing and recording demos.
After looking for a singer/guitarist for most of 2019, Tucker ran into longtime friend Christian Kyle, a member of Schatzi, at a Jawbox reunion show at Mohawk in Austin. Tucker mentioned the new band in conversation and Kyle was interested and wanted to come by and jam.
After only one rehearsal, the band members knew this was a perfect fit.
With an array of influences including indie rock, dreampop, post-rock, shoegaze, and Brit-pop, Startographers have a unique sound that's driving and vibrant, but also full of lush guitar textures and captivating vocal melodies.
Big Takeover is pleased to host the premiere of the music video for their debut single "Hollow."
The driving post-punk track with questioning lyrics gets the appropriate visual treatment with an atmospheric and noir look at endless highways and tunnels at night, lit up by blinding lights and road dividing lines, as well as streaming cars and trains that fly by.
The band perform the track in the shadowy video that's fleetingly brightened by tinges of neon colors. There's also a mixing in of visuals of a woman who is lost at sea, metaphorically and literally, with images of her grasping at a drink to alleviate her worries and completely submerged in water.
"Hollow" is being released October 8th via Shifting Sounds. Startographers will also have a split 7" with Japanese band Slavedriver, and their debut album coming out in the future.
Shifting Sounds store at Bandcamp
Startographers Facebook
Startographers Instagram