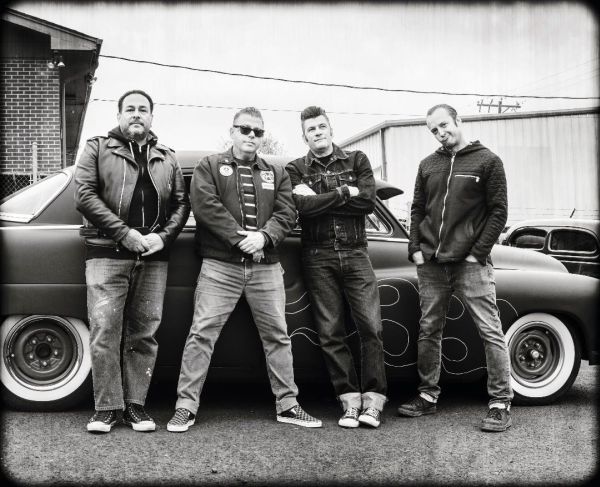 25 May 2021
Reno Divorce – Photo Credit: Jeff Gray Art
Denver's best and brightest punk rock stalwarts Reno Divorce have documented their latest single "Hopeless and Dopeless", and man, is it a doozy. The band's twenty-plus year history has been besieged with bouts of substance abuse, revolving rehab doors, soul-searching, and more hopeful serenity-filled stints of sobriety.
Their newest video provides fans a harrowing glimpse of what goes on behind rock 'n' roll's closed doors.
Big Takeover is pleased to host the premiere of the potent music video for "Hopeless and Dopeless."
The video features Brandon Stolz (of Denver skate-punk pioneers Frontside Five) as a desperate dope fiend on his last ride with the devil (portrayed by Colorado-based guitar slinger Ryan Chrys).
It's uncomfortably obvious that front man Brent Loveday is channeling visuals from his darker days. The band even enlisted a room full of friends, family, and fans who have likely seen him at his worst. "I devised the whole thing as a huge attempt at completing my Ninth Step," says Loveday, half-jokingly. "That's the one about making amends. Arguably, it's the most dreaded one. I wanted to get as many people as possible that I've let down into the same room, and give them free licks to express their disappointment." Loveday pauses and reflectively adds, "Well, I guess Brandon actually took the brunt of it for me."
While one can't be sure if it was cathartic for all parties involved, the idea certainly is effective in driving the song's moral home: When you're an addict who's lied, cheated, and stolen your way into a corner, life absolutely appears futile.
Directed by Kyle Lamar, the video begins just two blocks from Loveday's former home and spirits the viewer away to the swanky Clocktower Cabaret in downtown Denver.
The song will be available for streaming and download on June 1st and will physically appear as a bonus track on the band's double vinyl live LP, Outsider: Escape from Berlin!, in early August from Wolverine Records.