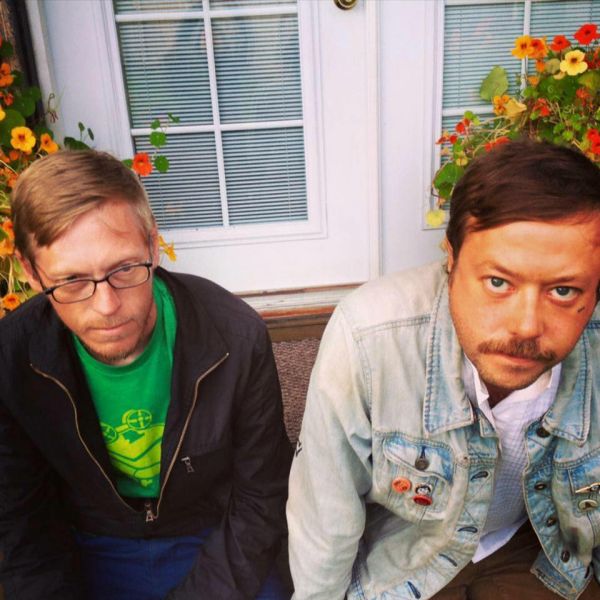 13 March 2019
Mythological Horses – Photo Credit:
Singer-songwriter/guitarist Shawn Holley and drummer Jest Commons (Moldy Peaches) are back as Mythological Horses and readying to release their upcoming album YYYMF on April 5th via Hovercraft Records.
YYYMF was produced and engineered by the renowned Tad Doyle (TAD), who also adds his vivid guitar lines to the mix, as well as Kurt Bloch (Fastbacks) on lead guitar and Kurt Danielson (TAD, Vaporland) on bass.
The alternative rock group hail from the far reaches of the Northwest and they bring their stormy sound to their second album that is very much an evolutionary stretch for the band with tighter hooks and harmonies fueled by loud guitars and pop-structured lyrics. Feel-good downer love songs tussle with blazing anthems and lyrics-driven angst.
The Big Takeover is mighty excited to host the video premiere of the tasty rock 'n' roll track "Hot Dog" which appears on YYYMF. The song is full of rip-roaring, fuzzed-up guitars that explode on the choruses, catchy melodies exclaimed with unbridled, almost snarling, defiance by Holley, and a propulsive rhythm section that blasts the track down the road.
The storytelling video is one for thriller/suspense film-fans and those with a strong stomach (well, at least with video's thematic ending). To give away more would spoil the intrigue, so the Big T hands it over to Shawn Holley who kindly gives us the exclusive scoop on "Hot Dog", the song and video:
"I wrote the song "Hot Dog" about my friend Shannon Shaw from the band Shannon And The Clams,about her sudden success (which, actually, is not sudden at all as she has been working her ass off for MANY years now). I was in the last month of writing the new album while squatting in the attic of a turn of the century house in the Midwest and listening to a lot of Nirvana and Shannon And The Clams at the time."
"The song for me is about being on top of your shit when it comes to playing ball and then taking charge of the situation. I have seen many of my friends bands play for so many years with very little support and then one day or what seems as overnight to others, your band gets its time and everyone then wants a piece of you."
"For the "Hot Dog" video, we decided to reach out to our fanbase via social media. We wanted to see what someone outside of the band, even more so someone we personally did not know, would come up with after listening to the song. Everyone hears a song differently, in terms of meaning, and everyone puts their own personal spin on what they hear as it applies to themselves or their lives."
"With that, we handed the director's chair over to Eli Luchak, a young film student from the East Coast. The actors involved are Jonathan Sher as the writer and Lindsey Clutter and Avery Johnson as 'the intruders', and it was filmed in the Northern Liberties neighborhood of Philly. The main idea behind the music video came after the director watched Jean-Pierre Jeunet's 1991 movie, Delicatessen. There's a scene in that film where people are running up a staircase in an attempt to get at a man to ultimately cannibalize him."
"The end result blew us away, as it is one of the best videos I've seen in a while. This isn't your typical video of a band playing a song, but rather has a Hollywood thriller movie vibe. It was amazing to reach out to our fans and work with them; after all, we are all in this together."
And now it's time to feast your ears – and, ummm, horrified eyes (with a wicked grin on the side), by the end of this video!:
Mythological Horses will be running free on the road in support of YYYMF, so keep an eye out for tour dates to spring up for the rest of the year.
LIVE DATES
April 12 at Sirens in Port Townsend WA
April 14 at Sunset Tavern in Seattle WA – Album Release Show, w/ Howardian (featuring Ivan Vanek of JAPANTHER) and a Q&A with Seattle artist Ryan Henry Ward
Facebook
Twitter
Instagram
YouTube
Bandcamp