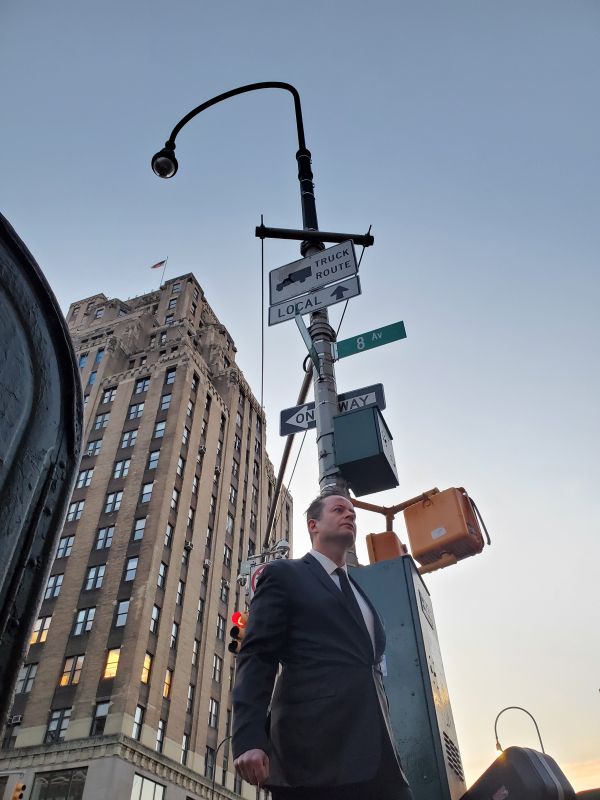 16 September 2020
P.J. O'Connor; 8th Ave, NYC – Photo courtesy of P.J. O'Connor
New York native and multi-instrumentalist singer-songwriter P.J. O'Connor is a veteran performer and seasoned musician whose first solo album, Television's Golden Age, is set to release this fall.
Having been the drummer and percussionist for a variety of wildly popular and cult-status bands in the '90s (The Bogmen, Radio 4), O'Connor has previously collaborated with Jerry Harrison (Talking Heads) and has been an in-demand session/tour player for seminal artists such as Gordan Gano (Violent Femmes).
Finally striking out on his own, this new collection of songs reveals the depth of his bright, yet intimate songwriting, as well as the soulful heart beating behind New York City's chaotic, gritty exterior.
Originally hailing from Long Island, O'Connor's own Irish roots led him to busk in local pubs across Ireland on his own while he wove together new songs and experiences. Gratitude and grace permeate both his songwriting and his outlook on life with a shimmering intensity, mirroring the warm sentiment and artful romanticism of the songs.
Produced by O'Connor's former bandmate Vic Thrill (aka Billy Campion), Television's Golden Age boasts Parker Kindred on drums (Jeff Buckley), bassist Brad Truax (Interpol), and Grammy-nominated Leslie Mendelson on backing vocals (Jackson Browne). O'Connor's music has been featured on major CBS television shows and he hopes to share these joyful, catchy jams while playing with his longtime backing band, Fine Arab Chargers, at some point in the future.
Big Takeover is pleased to host the premiere of the NYC-centered music video for the swaying and heartfelt "Indecisive Moon." While the track is about finding love in the constant hustle and bustle of NYC, there's a wistful tone that permeates O'Connor's vocals. He knows how much the city and its people have suffered since the pandemic hit, and that NYC has been battered pretty badly, but isn't down for the count.
In the video clip, O'Connor walks through the streets with his face mask on and his trusty guitar in hand, passing through a lit-up land of bright subway tunnels, the glare of Times Square, and brownstones and storefronts all glowing in the unusually quiet twilight.
Going into the backstory of the song and video, O'Connor divulges, ""Indecisive Moon" is a love song to New York City. Finding new love under the backdrop of this city is as intense a sensation as I have ever experienced. It can turn on a dime, as life often does here. We shot the video in midtown in May, the businesses in Times Square shuttered. It was an eerie, surreal experience that we had to document, one that served the narrative of the song of feeling alone in the city where I fell in love."
"Things feel different here now in the midst of Covid-19. Fear, uncertainty but even more so, mortality. The Superman of a city is now just another Clark Kent. Personally, I am extremely grateful to be right here where I have called home for most of my adult life. Those of us who have chosen to ride it out, while the endless caravan of moving trucks parade across the bridges and through the tunnels, we still see the same sunsets, the same moon rise."
"New York will get up off the mat and rise again. "May the lights of New York City shine on me wherever I go" is a prayer of sorts. And it's also that intense, fleeting love that I only feel in this city which will, like the moon, inevitably show her face again."
Website
Facebook
Twitter
Instagram
YouTube
Spotify