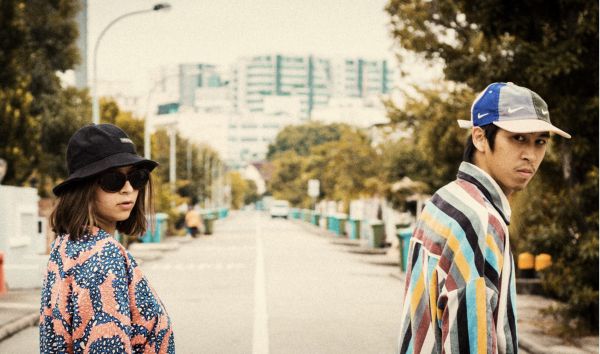 17 August 2021
Cravism X Maya Diegel – Photo Credit: Malcolm Soh
For a city as large as Paris, it's not actually all that often that we end up exploring the output of the many bands the City of Light surely must produce. So many artists, so little time. Hence, it is with great distinction that we turn our attention to the artist we introduce to you today – Maya Diegel.
Her new collaborative album with Singaporean producer Cravism (aka Cravis Chang) is multif-old and we, like the rest of the world, will just have to wait for each track from their forthcoming Caryatid EP to drop or fly (as it seems they will) one by one until the actual release date.
For today, we have the pleasure of introducing you to their chilled-out and seductively soothing R&B track 'It's Okay'.
Released under the name Cravism X Maya Diegel, this single is the lead track from the forthcoming release, which will be released via UK-French label Komplex Recordings on August 20.
The duo recruited Parisian video director Stewart Livinec to create the superb accompanying music video for this first single.
The video is a compelling storyteller, with the camera's focus on the interior of an apartment where a young woman is cleaning up the room. The view then pulls back slowly to reveal another apartment where an older man is watching the woman from afar.
Other scenes follow each character as they live their lives in their individual spaces, but one day the young woman notices that the man is unobtrusively watching her, but as she realizes this, he too becomes aware that his gaze is returned, and the shock sends him reeling backwards and to the floor…
The concerned woman makes the effort to go to the man's apartment, and finds him unconscious on the ground, with his bed holding objects of importance to him – a guitar and more…
Viewers will want to know what happens next, but the video leaves the narrative at a cliffhanger moment. More to come, one hopes!
This second EP is actually part of a larger project involving the release of several songs and films, as well as a series of live performances. Tune in, clue in, and chill out – the waves they are dialing us into are both reassuring and a sweet aide-memoire of mellow jazz / trip hop and soulful R&B offerings by the likes of Morcheeba, Olive, Corinne Bailey Rae and Erykah Badu, albeit with an evident hip-hop element as well. This is sweet music to the ears and definitely should be circling around yours following that first listen.
Hailing from Paris and initially trained as a jazz singer, Maya Diegel's trajectory would take a big turn upon meeting Singaporean producer Cravism several years ago in Cornwall after his performance at the local university, Maya fell in love with Cravism's set and sought to collaborate. Impressed by Maya's capacity for writing high level melodies, harmonies and lyrics, their fateful meeting ultimately brought the 2019 release of their first collaborative album 'Vibes, vol. 2', which resulted in ample playlisting and radio interviews and ultimately secured them a record deal with Komplex Recordings.
Recorded in their respective home countries, their new album was mixed by Thomas "Mister T." Gloor at AKA-Studios in Switzerland and mastered by Stefan Hegar (D' Angelo, KRS-One, Cody Chestnutt) at Fisheye Music in the US.
"This track started off in one of the basement rooms in Lasalle back in August 2019. It was another practice beat that I made and didn't really think much about it for months until the first lockdown came. Maya was experiencing lockdown in Paris as well, so I sent her a couple of tracks to write on and she recorded them and sent the back to me to mix," says Cravism.
"When writing this song, I was picturing what I would say to someone that I love who is going through a difficult time in their lives, I wanted to give the audience a feeling of comfort and calm. In this song I am telling the person that is in front of me that they can open up to me about anything that is troubling them. This song to me is pure love. Overall, the album is about part of my experience of being a woman and I thought that this song would add something to the theme of the album, vulnerability," says Maya Diegel.
Having released two instrumental albums before meeting Diegel and touring the UK and Singapore, Cravism has always been immersed in the hip-hop culture. Besides being a professional b-boy, Cravism began playing the piano and trumpet early on, which progressed into recording and producing his own music. His music has been featured in Berlin, Hong Kong, London, Mexico City, Milan, Moscow, Paris, and Seoul for the Adidas Originals Flagship Store. It has also been used in many documentary videos, including 'The Cuppa Depresso', 'Elevate the Streets', 'Dead was the Body' and others. Cravism was also the opening act for legendary hip-hop trio Slum Village during "Dilla Week" in Falmouth 2019.
Maya Diegel explores different altitudes with her voice, drawing influences from Hip-Hop, RnB, Neo-soul, Jazz hop and funk. After graduating with a music bachelor in the UK in 2019, she has launched her music career, in addition to pursuing a career in the cooking world, her other great love. A born singer-songwriter, Diegel's style and delivery conjures emotions and atmosphere that make for an incredible experience.
As of August 20, 'It's Okay' will be available across online stores, such as Apple Music and streaming sites like Spotify . From Friday through to October 22, keep your eye out for whenever each of these singles and the final EP drop on Apple Music
CREDITS
Written and performed by Cravism and Maya Diegel
Lyrics by Maya Diegel
Produced and arranged by Cravism
Mixed by Thomas "Mister T." Gloor at A.K.A Studio (Lausanne, Switzerland)
Mixing Assistant by Marco Ballerini
Mastered by Stefan Hegar at Fisheye Music (Germany/USA)
Cover Artwork Jérôme Boccia (France)
Video by Stewart Livinec
Photos by Malcolm Soh
CRAVISM X MAYA
Facebook
YouTube
Instagram
Twitter
Tik Tok
Cravism Instagram
Maya Diegel Instagram