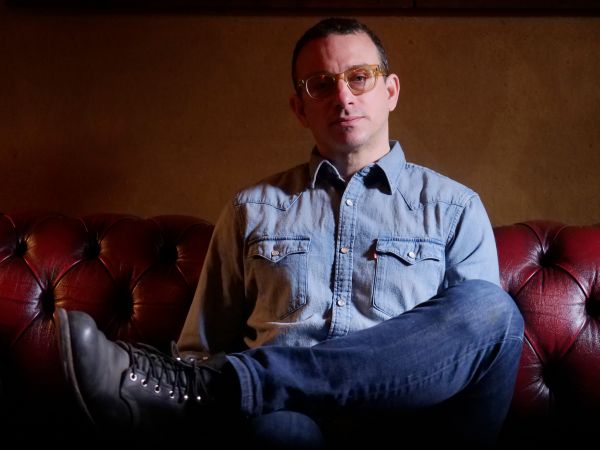 12 July 2021
Sam Barron – Photo Credit: Sam Barron
NYC-born Sam Barron's new album, A Prayer for a Field Mouse (Mother West), finds him reunited with producer Charles Newman (The Magnetic Fields, The Bones of J.R. Jones, Soko).
Newman's touches are all over the album, yet the production feels sparse and true to a folk record. Enlisted were bassist Byron Issacs (The Lumineers, Lost Leaders), Eva Mikhailnova (Eva & The Vagabond Tales) on vocals and accordion, and Jack Mcloughlin on pedal steel, all contributing from their home studios.
Commenting on the effects of the pandemic, and the move for most to the online world, Barron says, "We are just lost souls out on the network now. Who knows where we are going to end up as individuals or as a culture. A Prayer for a Field Mouse for me is about getting out of society's dread suck, and into the joys of simply surviving."
The narrative songs on A Prayer for a Field Mouse are all character-driven and stem from a childhood raised by his father, who was a former folk musician and forensic criminal investigator, and his mother, who worked with severely handicapped children.
Eventually Barron started penning poems and frequenting uptown jazz clubs, and studying guitar with NYC jazz great and mentor Freddie Bryant.
Barron's songwriting career began in 1997 in Austin, Texas, but he ended up in NYC in 2002 when he became a regular in the Antifolk scene housed at The Sidewalk Café, performing alongside regulars like Jeffrey Lewis, Turner Cody and Brooke Pridemore.
It was during this period that Barron first worked with Newman on All Over the Place. A collaboration with producer Brian Speaker (Jeffrey Lewis, Hammell on Trial, Pinc Louds) followed, resulting in Just Couldn't Help Myself.
Simultaneously, Barron and Mimi Oz formed the indie rock band The Come On, out of which came an EP, an album, and three US/Canada Tours.
Big Takeover is pleased to host the premiere of the storytelling music video, which was directed by Alix Tydings, for heartfelt folk strummer "Karaoke Queen."
With an easy-going twang Barron relates the unfolding life of a woman from the time when she was raised to her current down 'n' out situation.
Curling guitar lines, subdued backing harmonies, bittersweet harmonica waver, and a peppy marching drum beat support Barron's vocals.
The music video mirrors the lyrics of the song, as viewers follow this despondent woman through the streets of New York City.
She finds relief and release once she enters a downtown bar filled with other downtrodden denizens – by stepping onstage to the mic and participating in Karaoke Night.
The communal event is an escape from the everyday world, and instead of drowning their sorrows in alcohol, this woman and the rest of the bar's patronage get up and sing along to the karaoke songs.
Barron relates, ""Karaoke Queen" tells the story of a woman struggling with life and down on her luck who finds salvation through singing."
A Prayer For a Field Mouse will be released on September 10th via Mother West Records, with touring in the US and Europe planned for fall 2021 through 2022.
Pre-Order A Prayer For a Field Mouse HERE
Website
Facebook
Instagram
Spotify