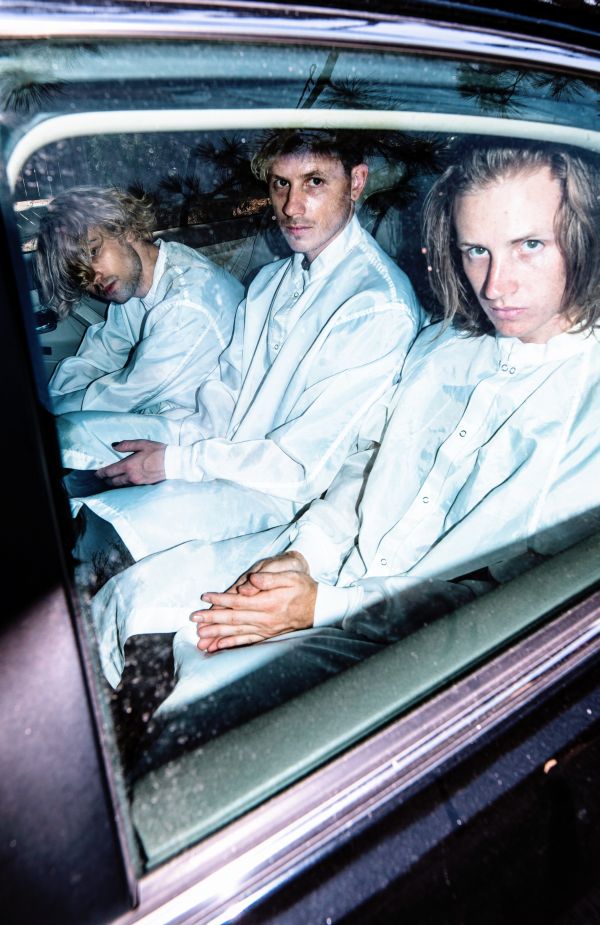 5 December 2018
Tennis System – Photo Credit: Brittany O'Brien
Acclaimed Los Angeles-residing (by way of Washington, D.C.) post-punk band Tennis System released their latest record, their EP titled P A I N, as a Record Store Day exclusive in April via Graveface Records.
The characteristically lush and melodic, yet raucous EP pans over familiar thematic terrain for the noise rock/punkgaze band, delving into the modern, youthful dilemmas of isolation and longing, failure and persistence. It's an apt soundtrack for a world gone haywire, where anxiety for the future wracks us all, but it also delves into personal loss.
Of the EP, bassist Sam Glassberg says: "It's called 'pain' for a reason. It was painful to make. We made sacrifices to make the album." Jobs were abandoned. Loved ones were lost, or separated by distance. All the while the band was keenly connected to the national mood. "It's a painful time right now, and everyone's understanding their own relationship with pain," says drummer Garren Orr.
P A I N was recorded in Philadelphia with Jeff Zeigler (War on Drugs, Nothing, Kurt Vile) and in Los Angeles with Courtney Ballard (All Time Low, Anti-Flag).
Tennis System was founded in 2009 by Matty Taylor, who was steeped in the music of Fugazi, Bad Brains, and Nation of Ulysses — the sounds of discord that now underpin Tennis System's sound. Glassberg, meanwhile, was traveling the world, a typical expat kid, his ears attuned to the sounds of the Clash, the Cure, and Joy Division, as well as the pop-punk emerging out of American hardcore. And yet, it's Los Angeles that runs through Tennis System's music like a thread, infusing it with sunshiny power chords and a brisk prettiness.
The Big Takeover is thrilled to host the premiere of the stark, yet swift performance video for the propulsive, abrasive, tense, and exhilarating post-punk downer "L I E".
In the video, gritty pixels and TV snow come and go as rectangular boxes of vivid blue pop up on occasion, while fast, flickering, and zooming footage of the band members playing fly by the screen. Do not adjust your television set (well, computer screen) – Tennis System's song and video need to be heard and seen at full blast!
The band explains the origins of the video's creation, stating, "From the moment we decided to do a video for "L I E" we knew it needed to be raw, and fast. So we knew that Bradly Scott had to be the one to do it! Both the writing and recording of the song had those elements to them, so putting a visual with the same spirit to the track was fitting. The repetitive line "I've been living a lie" focuses on living a life to please others rather than ones self. A mantra of sorts."
Order P A I N EP at Graveface's Bandcamp
Tennis System will be entering the studio early next year to record their first full length for Graveface.
TOUR DATES
12/8 Tijuana at Mous Tache
Facebook
Twitter
Instagram
YouTube