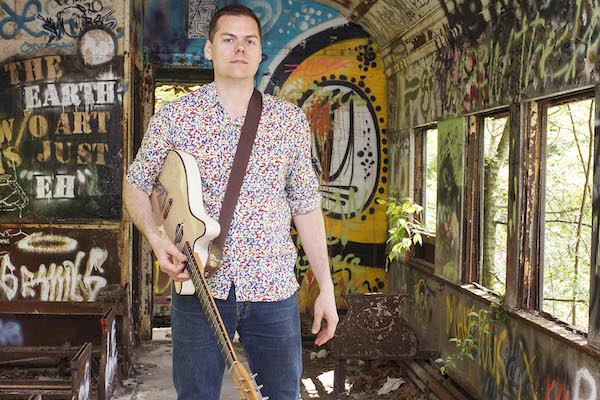 18 January 2022
David Heatley – Photo Credit: Jonathan Elderfield
Come February 11, one of the year's more illustrious albums, so to speak, will arrive courtesy David Heatley, better known to the public at large for his work as a cartoonist and animation director. Publications ranging from The New York Times to McSweeney's have featured the renowned artist's illustrations over the years.
Heatley isn't a newcomer to the medium of music, though. Roughly 15 years ago, he crafted a soundtrack to "My Brain Is Hanging Upside Down," a graphic-novel memoir whose title was inspired by the Ramones song of the same name. Prior to that, he and his high school band, Velvet Cactus Society, issued a couple of records on New York City indie label Shimmy Disc.
Come February 11, Heatley's admirers will bear witness to his next foray into music — and first official solo studio record — when Dream Puppy Records releases Life Our Own Way on all streaming and digital platforms.
Today, the Big Takeover is pleased to exclusively premiere the video to the new album's title track. It took Heatley four months and 1,068 drawings — each frame drawn by hand — to complete the special visual accompaniment to Life Our Own Way.
Heatley recorded the album at Piety Street Recording in New Orleans' Ninth Ward, and additional recording took place at Marigny Studios and House of 1000Hz in the Big Easy. Mark Bingham (John Scofield, Glenn Branca) produced, arranged and mixed Life Our Own Way; while members of Lost Bayou Ramblers and the Givers, plus Julie Odell, Sarah Quintana, Lilli Lewis and Tony Award-winner Michael Cerveris all contributed to the music.
Heatley had this to say about the track and video:
"This duet, recorded with New Orleans-based Tif Lamson of the Givers, wound up being the centerpiece of the record and inspiring its title. For that reason, I got a little obsessive about the music video. Over the course of four months, I wound up drawing every animation still by hand — all 1,068 of them."
Heatley continued: "The song is a young lovers' anthem, based on memories of a trip to the city that a group of my high school friends and I took on the 4th of July in 1992. We saw Sonic Youth and Sun Ra play [at SummerStage] in Central Park before heading down to see the fireworks at South Street Seaport.
"In this case, I've swapped in all my new Louisiana friends who played on the record, including [Bingham]. I couldn't be more honored that such brilliant musicians lent their talents to my songs and made them sound better than I could have dreamed."
Check out the clip, premiering exclusively today on the Big Takeover's website:
Heatley's website
Heatley's Instagram