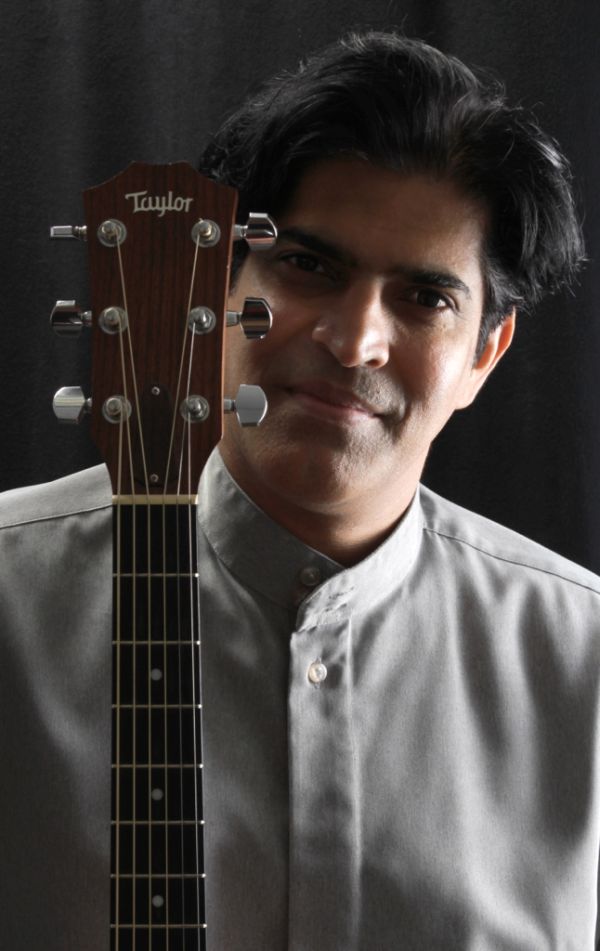 18 January 2021
Shri Baratan of Nonviolenze – Photo courtesy of Shri Baratan
Nonviolenze is a trademark of Ahimsa Creations, a music production corporation that integrates music, art, and poetry that was founded by the multi-talented Shri Baratan in 2012.
Nonviolenze's mission is to produce music and art that expresses the myriad challenges confronting humanity today. Nonviolenze engages its listeners/viewers with deep-rooted themes that include war, poverty, politics, human rights, psychology, philosophy, and spirituality.
With "Unity in Diversity" as its central theme, Nonviolenze's relevant and artistic repertoire facilitates a peaceful pathway to a harmonious society through "Nonviolence in thought, word, and deed."
Nonviolenze's message is a powerful one: that equality is a fundamental human right.
Musically, self-taught singer and songwriter (and painter, businessman, and more) Baratan released his latest album, the compelling Ghosts of War, this past October.
On the LP, Baratan fuses world music with contemporary pop, acoustic and electric guitars. found sounds, and his mesmerizing, wide-ranging vocals. Guitar-wise, Baratan use freestyle rhythms and his finger-picking is accented with open chords and vibrant harmonics.
Insightful and poetic lyrics speak to the psychological/sociological journey one takes in life, with all its highs and lows.
Big Takeover is pleased to host the engaging performance music video for "Mirror," a contemplative to vivid track from Ghosts of War.
Baratan strongly emotive vocals pensively flow through the song, digging in low and flying high to the sky, and exploding into fireworks by its end. He's backed by spare, but expressively played, mellifluous to urgent acoustic guitar lines.
The video clip focuses on Baratan, dressed in a casual suit and sunglasses, as he sings and plays his guitar. Behind him is a striking black, white, and gray mural with the design of a human body criss-crossed with a plethora of lines.
Baratan sings of the foibles of humans, "anger, hatred jealousy, lust, and greed", and cautions us to look in the mirror and make sure we're not the ones embodying these detrimental qualities.
Website
Facebook
Twitter
Instagram
Spotify
Soundcloud
YouTube