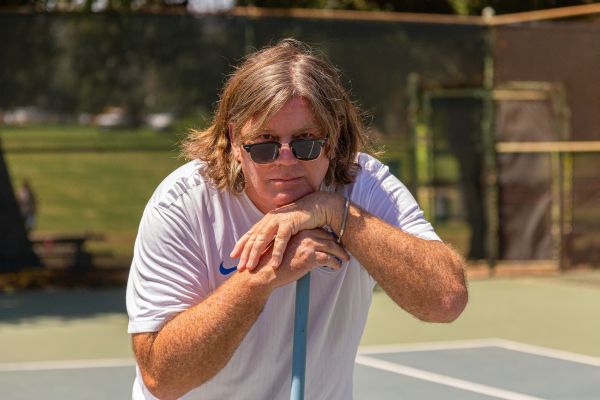 30 November 2021
the black watch – Photo Credit: Brendan Holmes
For Here & There, their 20th album, Santa Barbara-cum-Los Angeles indie rock/poppop vets the black watch hired Ben Eshbach to do string arrangements for one song: leader John Andrew Fredrick and producer Scott Campbell were so impressed by what the two-time Emmy-Award winner did on "Now & Then" that they decided to have the Sugarplastic frontman do arrangements for three more numbers.
The quite camera-shy band were also pleased to work with video artist C.K. Sumner on three videos; they'd loved what he did with recent tracks by The Bevis Frond and Kristin Hersh – and certainly relished the prospect of not having to be in any videos for this LP.
"It's the only thing I don't like about having a band, making videos," Fredrick says. "I never started the black watch in order to have to have my picture taken or stand around on a junior movie set. Can you guess my favorite Kinks song? I've given you a hint: It's "People Take Pictures of Each Other" – or maybe "Picture Book.""
"I've never owned a camera or taken a snap on holiday or something – certainly never taken a selfie! The whole thing's just odious to me. We have never liked any videos we've starred in, as it were. In fact, two or three down the years have been scrapped completely. I just think, "My stars, that was money thrown away that could have been used making an EP or single or something!""
Having threatened (idly, of course, and many times) to stop recording new material, naturally the band's already in the studio, recording LP number twenty-one with longtime producer associate Rob Campanella.
Fredrick notes, "We've always sort of jested that, each LP, we try to make The White Album…. and fail. Admirably, sometimes?Haha. Yes.We hope so. But this time we thought we'd be a bit less madly ambitious—so we're shooting for our very own shoegaze Magical Mystery Tour. Wait till you hear the guitars on this one—not forgetting the piccolo trumpets and cellos! Songs just keep pouring out of me, I suppose. I can't seem to stop the bleeding!"
Big Takeover is pleased to host the premiere for the beguiling, nature-steeped music video for the engaging "Now & Then."
Richly shot black and white footage of a forest clearing is shown in its full glory, lush with thick vegetation and trees with their leaves swaying in the soft breeze. It's a calming and slow-moving vision that fits with the reflective and ruminating vibe of the song.
Atom Records Website