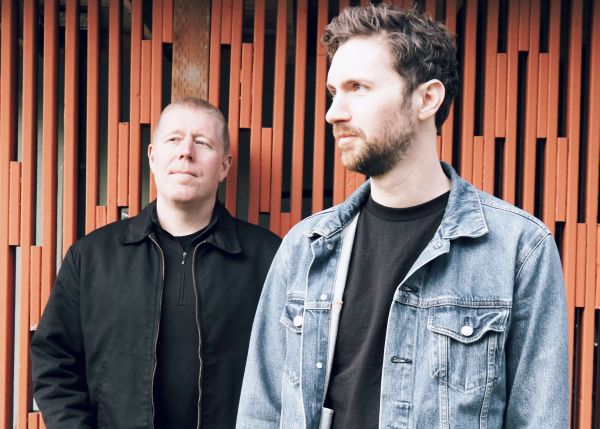 23 June 2021
Delta IV – Photo Credit: Kimber Leblicq
On II, the aptly named second release by Seattle-based synth-futurists Delta IV, Michael Schorr and Jared Pace channel deep radio waves from a proto-futurist alternate reality.
Delta IV have a psychic connection to the world that exists at the blurred line between man and machine, and they move between these two entities with ease. From the atmospheric dystopian dawn of early-'80s computer animation, to the Motorik relentlessness of brutalism and the trance-crackles of the synthwave hedonists, Delta IV are sonic space flight powered by a Monolith-sized modular synth plugged directly into your headjack.
Pace (synths and guitar) has been writing and performing as Sword House since 2012. He has collaborated with Kortland Chase (As Hell, Grades) and Graham Massell (California Wives) in Porcelina and other projects. He's produced and engineered recordings for Stan Hall, Michael Bauer, Posture, and Evergreen Shakers.
Schorr (drums, keyboards) has played/recorded/toured with Death Cab for Cutie, The Long Winters, Steve Malkmus, Tracker, Fotoform, and more.
Delta IV released their debut eponymous album in the summer of 2019.
Schorr and Pace started writing II in early 2020. When the pandemic hit, they abandoned their practice space and took their collaboration completely online. Surprisingly, they found the process incredibly liberating. Unlike many artists who explicitly strive for thematic cohesion with a record, the duo approached each track as its own unique entity.
By summer, the demo version of the record was complete. The band turned to engineer Matt Bayles (Soundgarden, Mastodon, Minus the Bear) at Studio Litho in Seattle to track the drums and guitars. Synths were recorded in their individual home studios.
II is a record of instrumental, synth-based, cinematic rock inspired by sci-fi and futurism, written collaboratively in separate digital control rooms, connected by electrons flying near the speed of light.
Big Takeover is pleased to host the premiere of the music video for the high-flying track "Parsec" from the album.
The vivid number is an urgent call into the void, with pressing low-end reverberations and heightened synth diffusion at the start that are then joined by a more sedate measured drum pace and piquant to haunting synth notes.
The music video's footage is full of vibrant and restless imagery from our world – encompassing both the natural and the mechanized, from simplistic (shifting sands, the rapid plink of water droplets, and plumes of sparkling blue vapors) to more complex (data on computer screens, bulldozers at work, a city skyline lit up at night) modes of existence.
Creation and destruction are put on display as a view of what our Earth is going through as it orbits around the sun. Near the end of the video two people are seen exploring a dilapidated building, wandering around and looking at scavenged items as if they were artifacts from another time…
Is it the end of civilization as we know it? Are they the last two people on Earth? When one of them holds a shard up to the light, they see what was shown at the beginning of the video… Perhaps a symbolic view of the endless cycle of life and death on our planet…
Jared Pace sheds some light on the intent of the music video, explaining, "Our music is very open and interpretive. We noticed it worked well at transporting familiar visuals into our sci-fi, dark-wave world. I grew up watching film essays like Chris Marker's Sans Soleil and Godfrey Reggio's and Phillip Glass' Qatsi trilogy, which had a huge impact on me. I always wanted to experiment with making my own essay and the limitations of the pandemic created the perfect situation. "Parsec," composed entirely of found footage, tells an origin story of humanity interpreted through our music and in true sci-fi fashion also questions the nature of time."
Pre-order II at Bandcamp