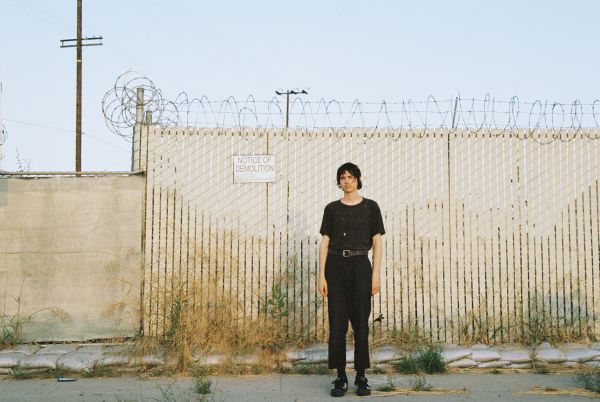 8 October 2019
Brendan Dyer of Milly – Photo Credit: Mark Underwood
Milly is a rock band from Los Angeles fronted by songwriter and multi-­instrumentalist Brendan Dyer. Their sound melds together elements of classic shoegaze, slowcore, and lo-­fi indie rock, coalescing into an intense, singular musical impression. Milly began as Dyer's home recording project in his hometown of Bristol, Connecticut before finally taking its current form as a band in Los Angeles.
The band is fresh out of the gate, running at a fast pace with two singles being released from their contribution to the Microdose series via Dangerbird Records.
Milly also recently announced via Paste that they have been picked to support shoegaze/dream-rock veterans Swervedriver on tour. In support of this exciting news, Milly are releasing a cassette comprised of their two Microdose singles, the sonically shape-shifting "Talking Secret" (with entrancing B-side "Crazy Horse"), and their first-ever two songs, including the hypnotically droning "People Are Forever".
This cassette EP will come out on November 6th, and in the meantime The Big Takeover is deeply pleased to host the premiere of the video for "People Are Forever", a track that showcases the budding potential of this young group.
The video (and the song as well!) is a dreamily yearning, slowcore treat, focusing at the start on Dyer and a girl he seems to be interested in. He moves through a market, gazing at a plethora of items for sale while she picks out a particularly yummy-looking ice cream cone to munch on.
The video lens soon fades on those scenes and shifts its attention to the band performing in someone's living room, conjuring up laid-back '90s indie rock vibes. The footage then alternates between these two environments, spotlighting the music life of the outfit/Dyer, as well as life outside the sometimes insular world of being in a band.
TOUR DATES (with Swervedriver)
October
10 – San Diego, Calif. at Casbah
11 – Phoenix, Ariz. at Valley Bar
13 – Dallas, Texas at Club DADA
14 – Austin, Texas at Empire Control Room
16 – Atlanta, Ga. at Hell (The Masquerade)
17 – Nashville, Tenn. at Mercy Lounge
18 – Carrboro, N.C. at Cat's Cradle
19 – Washington, D.C. at Rock & Roll Hotel
20 – Pittsburgh, Pa. at Spirit Hall
21 – Philadelphia, Pa. at Milkboy
22 – New York, N.Y. at (Le) Poisson Rouge
23 – Asbury Park, N.J. at House of Independents
24 – Boston, Mass. at Sonia
27 – Detroit, Mich. at El Club
28 – Chicago, Ill. at Bottom Lounge
30 – Denver, Colo. at Bluebird
November
03 – Seattle, Wash. at Columbia City Theater
05 – San Francisco, Calif. at The Independent
06 – Los Angeles, Calif. at Teragram
Website
Facebook
Twitter
Instagram
Bandcamp
Spotify