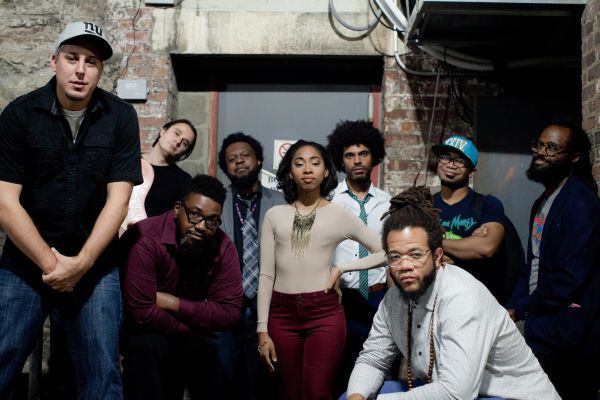 10 May 2019
Nickel and Dime Ops – Photo Credit: Gulnara Khamatova
The Big Takeover is mighty pleased to be hosting the premiere of the new video from NYC's socially conscious hip-hop group Nickel & Dime Ops.
The video for "People's Champ" (featuring Boyd from Phantom Vanity on vocals) was directed by Luis Moya of Sweet Arts Productions and the track appears on the band's latest album, 2018's Resuscitation Music.
The LP was completely financed by supporters of the band through crowd-funding. This allowed the outfit to record at Big Orange Sheep Studios in Sunset Park, Brooklyn. The studio was chosen because of its ideal layout which features four isolation booths and one main room. This enabled the band to record a studio-quality album in a live setting. The result was magic. Nickel and Dime Ops recorded an unprecedented thirteen new tracks in one day!
​
The album was produced by MC Nickel Killsmics, who wrote all lyrics. Several special guest vocalists are featured, including two-time Grammy nominee Jean Baylor, Boyd from Phantom Vanity, Camille Thurman, Milton Suggs, and (Madame Secretary) Victoria Cave.
The driving force behind Resuscitation Music was the desire to make really great music and present a powerful hip-hop album that could be fun, but also have an inspiring message. The same can be said of the lyrically thought-provoking "People's Champ".
Prefaced by a meaningful quote from legendary poet/singer/civil rights activist Maya Angelou, the lyrically intricate and powerful track calls for protesting what is unjust, but also staying positive and moving forward in the struggle that is life.
A direct MC Nickel rolls on with barely a breath in between beats, flowing with hard-hitting passion. He's supported by Boyd on the chorus sections as she emotes with fierce determination amid jazzy horn blasts and bleats, subdued keyboard notes, rhythmic percussion, and kinetic drumwork.
The video features NC Nickel and Body performing in front of the lens, while also showcasing quick images and footage of important moments and people in history, including Martin Luther King, Jr., Malcolm X, and protest marches to end police brutality and promote gun control.