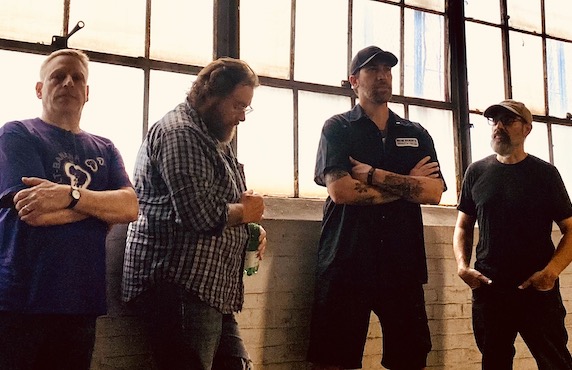 11 February 2022
Atom Driver – Photo Credit: CJ Grogan
Do you dream of violence and revenge?
Well, unless you're Liam Neeson, you should probably seek counseling right away. But after booking your therapy appointment, be sure to return to the Big Takeover's website for the catchiest blast of screamingly sweet punk-rock you'll be exposed to this side of Omicron.
New Jersey's Atom Driver, which features vocalist Chris "Crispy" Corvino from Deadguy, is unsheathing their martial-arts-centric video for "Porchlight" exclusively with us today. The track appears on the outfit's Is Anything Alright EP, now available through Nefarious Industries.
"Do you dream of violence and revenge?" Corvino shouts at the top of the song, before the band dives into a crushing cacophony reminiscent of Hot Snakes, Botch and/or Unsane.
"This song is about growing up as a dirtbag and trying to manage that past life education as an old person," Corvino said. "Good news: Time travel is possible … but they only come forward to our 'now' to mess with us."
With a running time of less than 1:45, you have no excuse to miss Atom Driver's clip for "Porchlight," found right here:
The New Brunswick-based band formed in fall 2016 when guitarist and vocalist Mark Segal (ex-Boss Jim Gettys), bassist Justin Ingstrup (ex-Good Clean Fun) and drummer Mike Polilli (Buzzkill) set their sights on blending classic and current noise rock, indie rock and post-hardcore influences with a love of punk and metal.
The trio made its debut with the 2017 EP Slackjaw, produced by Steve Evetts (Dillinger Escape Plan, Snapcase) and released on local label Powerbunny 4×4. Two more self-released EPs followed: In the West, later that same year; and Here They Come, the Hornets in 2019.
After reassessing their musical vision in 2020, Atom Driver recruited Corvino to handle vocal duties. As soon as masks could come off, the group recorded six new songs with Joseph Dell'Aquila at Exeter Recordings in Freehold.
What they emerged with was a more frantic and pissed-off vocal style layered over some quite accessible noisy indie rock with nods to bands like the Monorchid, Motörhead, Tomahawk, McClusky and God Bullies. Is Anything Alright was mastered by Bill Henderson at Azimuth Mastering and completed with cover art by Maurice Patterson.
For more on Atom Driver, go to these band-related links:
Bandcamp
Facebook
Instagram
Record label website
Record label Facebook
Record label Twitter
Record label Bandcamp
Record label Instagram