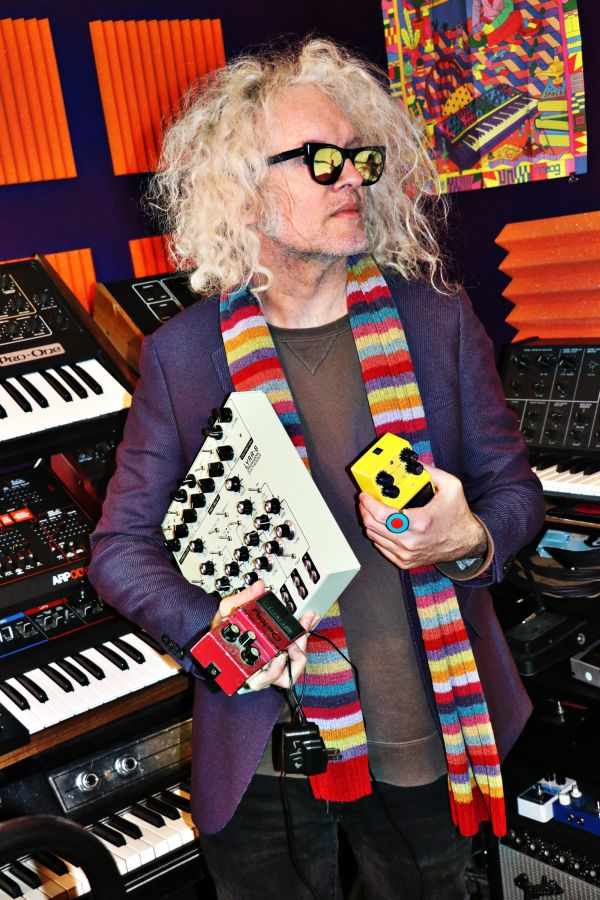 4 March 2022
Anton Barbeau – Photo Credit: Julia Boorinakis-Harper
Prolific and terrific musician Anton Barbeau's new album Power Pop!!! will come out via Big Stir Records on March 25th.
The new collection features 19 tracks balanced between fully formed songs (including the lead single "Rain, Rain") and a handful of fascinating interstitial miniatures.
The LP follows on the success of a string of recent albums including 2020's ambitious Manbird and last year's Oh The Joys We Live For on Big Stir, both acclaimed as high points in Barbeau's storied career.
The release date of Power Pop!!! is shared with Omnivore Records' lovingly curated reissue of The Loud Family and Anton Barbeau's What If It Works? – Ant's 2006 collaboration with the much-missed indie rock genius *Scott Miller *– making the day a landmark in the legendary psychedelic troubadour's long-standing career.
It has to be said at the outset that the title of Power Pop!!! is archly ironic: Barbeau intends the album partly as a rebuke of the self-imposed limits of the titular genre. However it's a work so unfettered by genre constraints that it can only be seen as Anton Barbeau's next leap, with much to offer to longtime fans and newcomers alike.
Big Takeover is pleased to host the premiere of the engaging performance music video for tuneful, New Wave-leaning "Rain, Rain" today.
Barbeau delivers his relationship-based lyrics with a droning, but melodic flow amid staccato waves of spacey synths, a running bass line, and peppy drum beat.
Anton Barbeau kindly took part in an exclusive Q&A with Big Takeover:
This is not the first recording of "Rain Rain". What's its history?
"This is an Ant song from my teenage basement days. Maybe I was 16 or 17 when it came out on my second cassette release, Big Band Theory, back in 1985. With many of my earliest songs, influence was worn clearly on sleeve… Ultravox and OMD flavors were always easy to spot. I'm not sure about "Rain, Rain," though a recent listen to Aussies Not Drowning, Waving makes me wonder if I borrowed a few chords from one of their songs. The original 4-track recording of the song was included on Antronica 2, and while that recording still holds up, I knew the song deserved a fresh, more fully-fleshed rendering. I did my best to replicate that basement version note-for-note, only adding a few subtle touches."
How did the video come to be?
"Julia Boorinakis-Harper and I set out to make a simple, fun film for the song. We filmed relatively few takes. We didn't try to nail down a specific '80s vibe or anything (as my "What decade is this?" hair demonstrates). Still, check out Steve Winwood's video for "Valerie" and see how many moves he stole from me! As is often the case with our hausgemacht films, our dog and one of our cats makes an appearance – or steal the show, more like. And I can tell you, we got our money's worth out of that fake rain!"
What can we expect from the new album?
"Regarding Power Pop!!!, the record from whence comes this song, it's indeed my "pandemic album" – a year's worth of farm-bound lockdown as filtered through my free-range brain. The album's title track features the guitar work of Donald Ross Skinner, famed for his work with Julian Cope. Amongst the other songs, there are all sorts of musical twists and turns, from the down-home country twanging to the psych-drone of "The Sound." "Rain, Rain" is part of the album-closing "teen suite," which includes two other ancient basement songs remade for the new age."
Links
Preorder Power Pop!!! HERE
Anton Barbeau Website
Big Stir Records Website