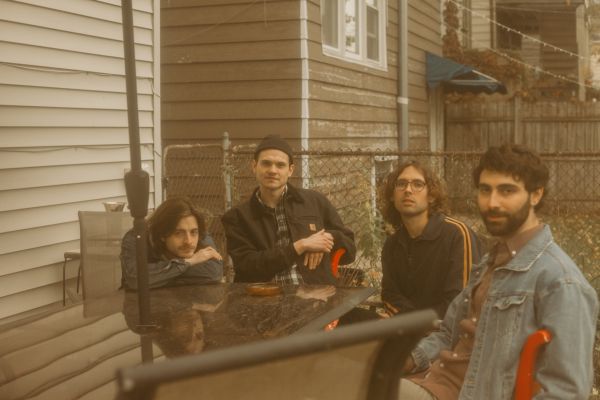 4 March 2022
Thompson Springs – Photo Credit: Kayla Thornton
Shortly after the pandemic began, Chicago alt-country band Thompson Springs bought a lot of home recording gear and converted their Chicago apartment into a makeshift studio. Unlike their debut album, Undertones, they didn't want to wait a few years to release it, and they began releasing the singles of their record as they completed them in 2021.
"Save the Trouble" is one of the final songs they recorded at home during their darkest days of lockdown last year, and it's their last single off of their upcoming second album called Homefield that they're releasing off of the band's own imprint, Dropped Beauty Recordings, this April.
Singer and frontman Matt Smith said he wrote this song to "let go of second-guessing and to find a sense of hope again." The drum machine beat that starts the song and is heard throughout sounded meditative to him, almost like "the thumping away of days of not knowing what is going on with the world and pandemic."
Big Takeover is pleased to host the premiere of the music video for Thompson Springs' heartfelt last single before their album release in April.
While the band recorded and worked on their upcoming album at home, they also enlisted Wilco's Pat Sansone to mix these tracks remotely, who the band also worked with for their first album (along with Kurt Vile's recording partner Rob Laakso).
"Throughout the process of home recording," Smith added, "we learned so much about the gear and workflow and how to get closer to the sounds we envisioned. I think we really hit our stride in terms of recording techniques and execution. I sing in the chorus 'get high, blue sky, be yourself,' which is a testament to letting go of second-guessing and trying to be more optimistic or hopeful."
Thompson Springs' music feels like the mental clarity gained on a road trip before coming back home, especially in the last half of "Save the Trouble" as the song crescendos during a cathartic outro.
Check out this last Thompson Springs single, and nostalgic music video, before the album release in April, which will also be accompanied by a month-long tour across the country.
Website
Bandcamp
Spotify
Instagram
Facebook