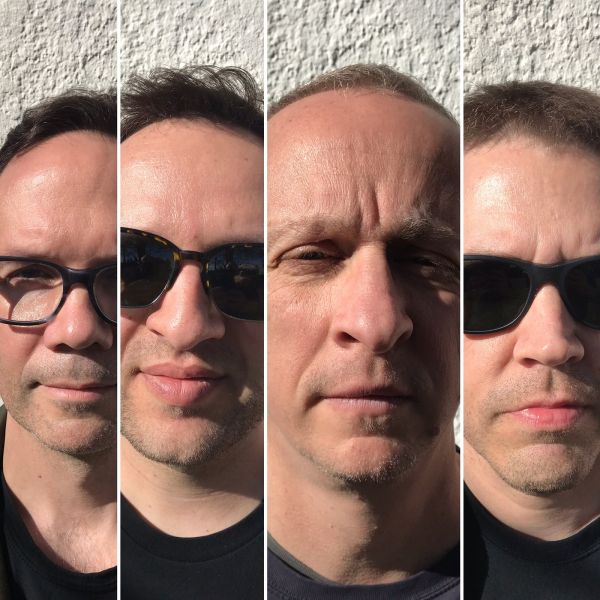 24 April 2019
New Age Healers – Photo Credit: Owen Murphy
New Age Healers is a shoegaze/psych-rock project conceived from the mind of Seattle-based multi-instrumentalist Owen Murphy, who is also the main songwriter and lead singer.
The Big Takeover is mighty excited to be hosting the premiere of the Seattle-based band's trippy and fun video for the dreamy and driving astral-projection track "Satellites" – and the admiration goes in both directions.
Murphy says of his previous musical debut, "I've been a massive fan of The Big Takeover for years and still remember the first review one of my bands ever received from the magazine. We were a weird band out of the Twin Cities called Mickey Finn, making NoMeansNo-inspired post-punk and editor Jack Rabid got where we were coming from. It was a thrill to receive his stamp of approval."
"The video is both a psychedelic freak-out and comedy bit featuring my friend, KEXP DJ and musician (The Young Evils) Troy Nelson," Murphy explains. "Troy plays a high-profile video producer whose ideas for what constitutes a winning music video get weirder and weirder until we take a trip into space."
New Age Healer's upcoming album, Debris, out in early summer, follows the band's 2016 album Ghosts and 2017's Where The Tragic Happens. It was recorded by Barrett Jones (Foo Fighters, Spinanes, Nirvana) at Laundry Room Studios in Seattle and mastered in London by James Aparicio (Spiritualized, Liars, Mogwai.)
Debris features singer and drummer Scott Matthews (The Piniellas, The Wannabes), bassist Allen Murray (Modern Athletics), and guitarist Adam Vernick (Lemuria, Devotion), and until recently, bassist Aaron Sankin (The Midnight Snackers, Dubious Ranger).
New Age Healers has received critical acclaim since its inception in 2016. Jim DeRogatis of NPR's Sound Opinions called their debut Ghosts "wonderfully dark, hypnotic shoegaze….". Dave Segal, The Stranger wrote "Think Failure divided by the square root of the Jesus and Mary Chain. Leader Owen Murphy has a deft hand and foot for slyly catchy melodies and occasional anthemic flourishes." KEXP called the band's second full-length Where The Tragic Happens,"…a masterpiece of balance. The instrumentation is loud but clean, the writing is chaotic in its meticulous structure, and most importantly Murphy's vocals are menacing but restrained. The result is versatile shoegaze that seems to get better with each listen."