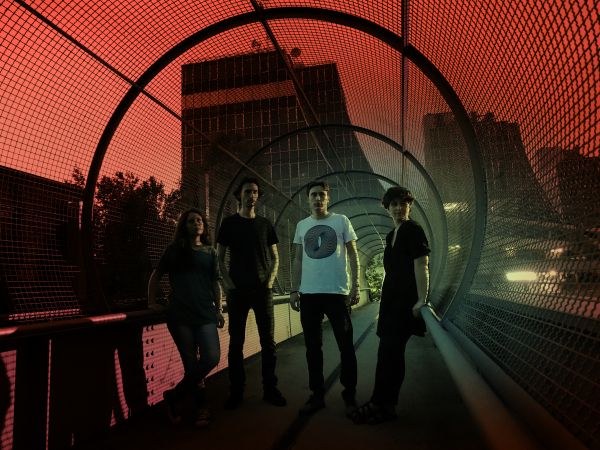 8 April 2020
Rev Rev Rev – Photo Credit: Salvatore Giorgio
Hailing from Modena, Italy (and currently quarantined), Rev Rev Rev have repeatedly been hailed as one of the finest new shoegaze bands, clocking airtime and praise from BBC 6 Music, NPR, KEXP, Drowned In Sound, and Clash Magazine..
Rev Rev Rev re-metabolize shoegaze and psychedelic rock elements in a loud, woozy, fuzz-driven, and at times noisy amalgam.
Since the release of their self-titled debut album back in 2013, Rev Rev Rev have taken their notorious live shows across the UK and Europe; sharing the stage with the likes of The Jesus and Mary Chain, the Brian Jonestown Massacre, The Telescopes, and Ringo Deathstarr along the way.
The band's latest album Kykeon (2019) was produced by James Aparicio (Spiritualized, Cult Of Dom Keller, Dead Vibrations) and marks their signing on cult indie psych label Fuzz Club.
Big Takeover is thrilled to host the premiere of the video for "Sealand," a strikingly discordant cut from Kykeon.
The song was born in the studio as a noise improvisation session coordinated by Aparicio. Driven by a thick, Motorik beat, the song moves along relentlessly with its scouring guitars, adding layer upon layer of feedback and loops and other experimental odds 'n' ends, resulting in a destabilizing, trance-like feeling.
The video is a tribute to Italian avant-garde cinema of the '60s and enhances the rhythm of the song with a powerful juxtaposition of diverse images that ratchet up the intensity of the number. The visuals appear for split seconds at a time, one after the other, in a blinding urgency that dazzles the viewer's eye and mind.
Bandcamp
Website
Facebook
Twitter
Instagram