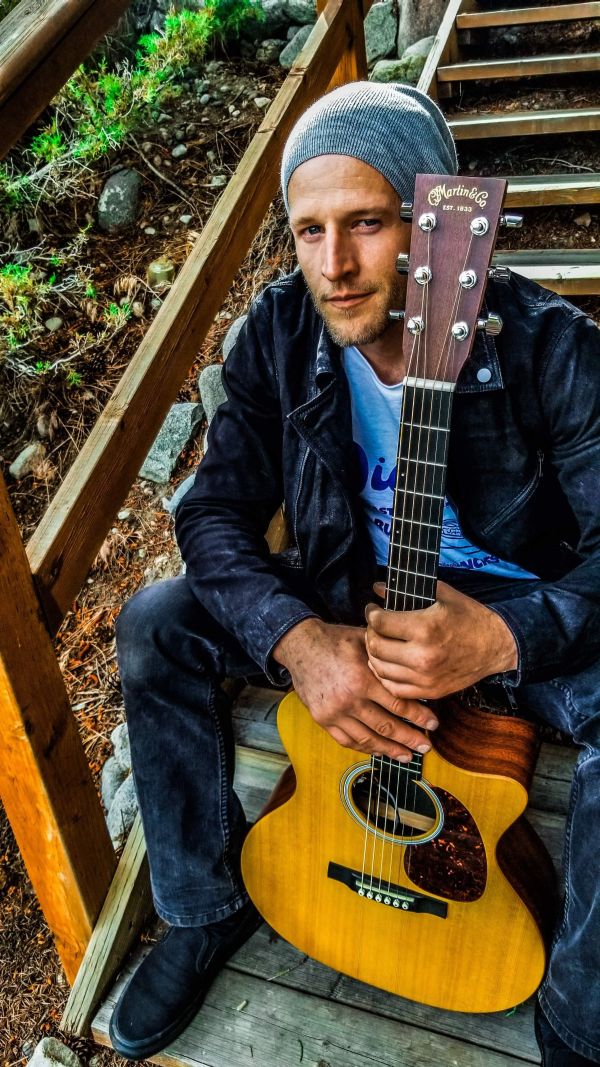 15 July 2020
Nate Jespersen of ultrviolence – Photo courtesy of Nate Jespersen
What do you get when you take Neil Young and add the voice of Ian Curtis with the guitar skills of Johnny Ramone? Musician Nate Jespersen and his compelling project ultrviolence.
Nate Jespersen has been making music since he was a child, forming his first band at the age of 16, and eventually morphing into the act called ultrviolence.
He formed the band in 2009 amid his icy home landscape that of Calgary, Alberta, honing his craft and debuting the inaugural Black Sea EP in 2014. The record found success with its pensively brooding tones and lyrics.
Following the Black Sea tour, ultrviolence released Forty Knives EP in 2017. Jespersen has never been known to conform to social norms or any specific music genre. He finds his muse from within, and his lyrics and music showcase his emotional journey.
Jespersen moved from Alberta to British Columbia in 2018 following several personal catastrophes. He is thriving among the fruit orchards and wineries of the Okanagan. From his home in the working-class soul of the region, he finalized his latest album.
Sally Would Say.. epitomizes Jespersen's diverse experiences. The LP reveals the emotional, painful, and ultimately inspirational trek in which Jespersen embarked while illustrating the resilience of the human spirit; from the deepest depths of depression to Jespersen breaking free of wallowing nihilism by choosing to take responsibility for his choices and bearing the weight of his actions through self-acceptance and humility.
Big Takeover is mightily pleased host the premiere of the uplifting and really amusing video for "Self Care." The track provides the listener with an anthem for loving yourself and taking accountability, all while skillfully commanding a '90s alt-rock vibe.
The song tips its hat to the tunefulness of The Beach Boys and the punk attitude of he Ramones, a vibrant, expansive, and positive rock 'n' roll revel that's a departure from the typical moody ultrviolence sound.
The video, which was directed by Sarah Scott, is even more cheekily cheery, taking a mischievous peek into Jespersen's life at home and out 'n' about in nature. The clip is shot from the viewpoint of a friend who Jespersen is following, from their house to the car, and to the store, all while interspersing the shenanigans with beautiful shots of natural scenery.
Jespersen gleefully pops up again and again playing his trusty guitar in front of his (possibly exasperated) friend, always with a big grin on his face. He appears in all sorts of places and spaces (like strumming his guitar, with a hat on, in the shower), jamming away and showing how empowering and joyful self-care, especially through music, can be.
Bandcamp
Instagram
Facebook
Twitter