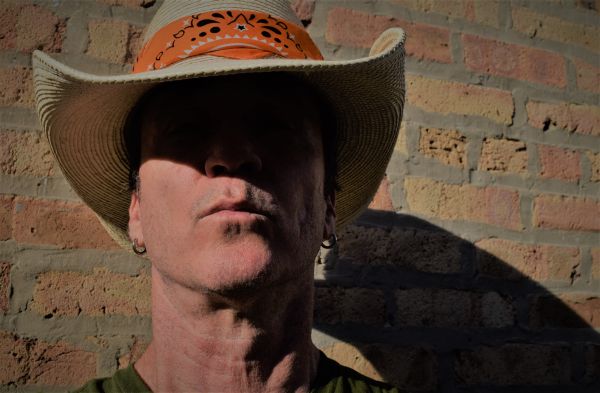 16 November 2021
Thanatos – Photo Credit: Patrick Ogle
Since the 1984 appearance of an obscure cassette release on then-fledgling underground label Projekt Records, Thanatos and founder/mainstay Patrick Ogle have long been associated with darkwave, goth, dark folk, and adjacent genres.
The forthcoming Thanatos album, Covered Country (Projekt Records, 26 November 2021), might therefore seem an unlikely proposition: an intimate collection of bare boned, strummed acoustic fireside cover songs, by a "goth" singer paying tribute to such great American songwriters as Townes Van Zandt, Kris Kristofferson, Lucinda Williams, Guy Clark, Jimmy Webb, and others. Several are songs made more famous by country music industry royalty: the likes of Merle Haggard and Willie Nelson, Emmylou Harris, or "country supergroup" The Highwaymen.
But Covered Country is not some darkly ironic, tongue-in-cheek collection of goth novelty covers, as the lead single "Seminole Wind" immediately makes clear.
Originally from John Anderson's album by the same name (BNA Entertainment, 1992), Ogle's Thanatos rendition of "Seminole Wind" is the most hauntingly stark and melancholy moment captured on Covered Country.
Nor does Ogle profess any interest in exploiting the intersection between 'dark' underground music and outlaw country, or 'Southern Gothic' Americana. These are simply naked, heartfelt renditions of well-crafted songs that Ogle, now a seasoned singer-songwriter himself, displays an unmistakable affection and respect for.
"Back when I first heard this song and this record ("Seminole Wind'", I still had a bit of the bias against country music a lot of people have. Sure, we liked underground or outlaw country artists, but things that even had a whiff of the mainstream? NO WAY. But it is just a good record, with a lot of good songs. And this record was a hit. The song that I really picked up on first was a love song, "Straight Tequila Night," but when it came time to record this (Covered Country), I gravitated to the one about the environment. Anderson opened a door and let me peak into parts of the country music universe that I'd avoided. And guess what? They don't just sing about whiskey and pick-up trucks."
Indeed, Anderson's song reflects mournfully on the loss and destruction of his Florida home state's celebrated natural wetland environs. Almost thirty years on from the original's release, it is a sentiment all-too deeply resonant with Patrick, as he explains:
"I grew up in South Florida. When I was a kid, the "swamp" was much closer. I could ride my bike to a mini wilderness full of snakes and alligators. Now? It is a mini mall, with a sleazy bar and an auto insurance office. I continued visiting the Everglades and the Big Cypress as I got older. I find it both beautiful and relaxing. I find a focus there that I don't have elsewhere. You have to pay attention as you walk in the water, or you might twist an ankle, or step on a snake."
"Every time I go – and since I live in Chicago now it isn't more than a couple times of year – the shopping malls and subdivisions creep closer, and the wild disappears into the ugly monstrosities we live and work in. John Anderson wrote this song years ago, but he captured what was happening then and what is still happening. I sometimes pray for massive hurricanes to hit those subdivisions. I don't want anyone to get hurt. I just want them to leave."
Big Takeover is pleased to host the hypnotically reflective music video for the contemplative and sincere "Seminole Wind." The video tracks the slow passage of drifting clouds in a light blue sky, sometimes with touched with glints of sun, and other times providing a gauzy haze to the day…
The single's video has been created by New Zealand-born, and now London-based filmmaker Stacy Picard of Massive Capital Video, whose director's credits include acclaimed music videos for UK post-punk giants New Model Army, Shriekback (as co-director), and London goth'n'roll reprobates Terminal Gods. But it was Picard's love of country music, coupled with his signature cloudscape work, which made him the first choice to create the video for "Seminole Wind."
Picard thinks of clouds as both "a constantly shifting and evolving symphony playing out above our heads," and "a great stand-in for a performer when you're shooting their video from another country."
With Ogle in Chicago and Picard in London, _"it was up to water vapor to rise to the challenge of performing "Seminole Wind."
Filming clouds is of course, a highly weather-dependent undertaking, and the shoot was hampered by "weeks of awful, formless, matte-grey sky." Once the right weather patterns revealed themselves, however, Picard and fellow cinematographer Vaughan Matthews immediately convened at a mud-covered West London football field, pointing their cameras skyward in the direction of Heathrow Airport's flight path: the resulting intrusion of occasional jet airliners a subtle but frequent reminder of human-made encroachments onto otherwise unspoiled natural vistas.
"What happened in post(-production) was more akin to a therapy session than an editing job; the combination of layering soft soothing sunlit skies to the rich, rumbling sound of Patrick's voice had a very calming effect on me. I forgot all about the pandemic and the impending environmental disaster threatening all life on the planet, and just drifted away," says Picard. "Not bad work if you can get it."
Patrick Ogle says of the piece:
"I left the video to Stacy. I really interjected nothing, but I felt that the theme, the air, the clouds was fitting. The changes in our climate are another big part of the destruction of the Everglades and all that is natural in Florida. Soon… well, soon it will be mostly underwater… but before that, it will be a bunch of housing subdivisions, cheek-to-jowl with empty retail space."
Ahead of the new album's release, Patrick Ogle will give a livestreaming performance on Saturday, 20 November, from Chicago's 13 Studio, where Covered Country was recorded with producer William Faith.
A solo acoustic selection of songs from last year's Thanatos LP, Portland (Projekt Records, August 2020), and the forthcoming Covered Country collection, the live set will stream at 8PM CST / 7PM EST from Twitch TV
The nine-song Covered Country album, including the lead single "Seminole Wind," releases to all major digital / streaming music platforms from 26 November.
To pre-save Covered Country by Thanatos on Spotify, go HERE
Website
Spotify
Apple Music
Deezer
Thanatos on Projekt Records
Projekt Records on Bandcamp