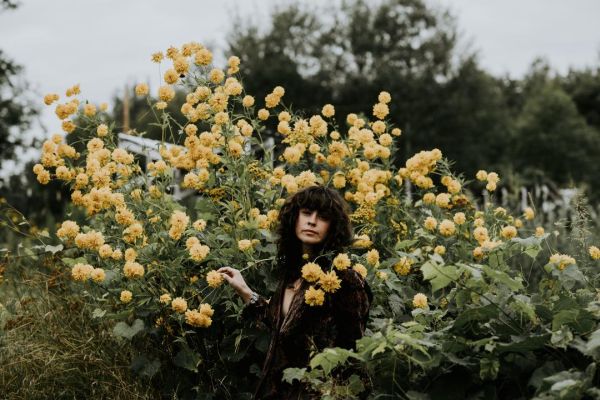 3 March 2021
LANUE – Photo Credit: Wolfskull Creative
Feeling detached from her previously released work as years lapsed, Duluth, Minnesota's Sarah Krueger set out to Hive, a small studio nestled near the river in her hometown of Eau Claire, WI. In the course of two separate sessions, (the first on the cusp of a long winter, and the second on the fringe of summer's swell), Krueger assembled a cast of collaborators to help flesh out a collection of songs that would later become the catalyst for Lanue.
Culled from the title of a poem that found its way to Krueger from a thrift store shelf, Lanue comes to us as a project that stands firmly in front of a fresh creative backdrop and boasts a more developed taste and sincerity than Krueger's previous releases — both a welcome departure and anticipated return.
In Lanue's self-titled LP, Krueger continues to amplify her knack for straightforward and earnest songwriting while maintaining a vocal delivery that sits like honey over layers of warm synths, guitars, and percussion. Ranging from confessional to nostalgic, each track is brightened by a lush lift while continuing to rest inside the framework of the folk tradition.
Krueger enlisted collaborators Steve Garrington (Low) and Sean Carey (S. Carey, Bon Iver) to assist with production and instrumentation while relying on JT Bates (Pieta Brown, Taylor Swift) on drums, and Ben Lester (Field Report, Sufjan Stevens) on pedal steel guitar. String arrangements by Ryan Young (Trampled by Turtles) and guitar work by Erik Koskinen round out the record so that it arrives at a place of stark honesty and inviting warmth.
Big Takeover is pleased to host the premiere of the music video for "September," one of the tracks off the album.
"September" is a gently yearning Americana slow-burner that stretches out with softly strummed acoustic guitars, the mournful cry of pedal steel, limpid piano notes, and a measured drum beat. Krueger sings in a wistfully longing tone, sound like she's hazily calling from across the prairie-land.
Krueger comments, "This ultimately is a song about forgiveness and learning how to not think in absolutes, to celebrate and connect with the nuances behind each person and each unique situation. The lyrics "call off your burdens, won't you give me a little grace?", that line comes from a place of asking someone to see you as a human who makes mistakes and who has faults amongst all the redeeming qualities you might have, to not be burdened by it all and to find solace in these nuanced and deeply human joys and sorrows we all bring to the table."
The effortless and angelic qualities of Lanue's vocals paired with her all-star cast of musicians and collaborators bring such a synergy to this track. The raw honesty and chemistry between them which feels so natural and harmonious when listening is immediately noticeable.
The music video looks like it comes from another era, unspooling images full of vintage footage that are intercut with clips of Krueger walking in a field. A variety of flowers bloom and fade, schoolchildren are shown working on their lessons and exercising, and forest being consumed by fire at the start is rewound at the end of the video.
Krueger dives into the details about the meaning of music video, explaining, "This video was created using old found footage from the public domain combined with footage I took this fall in Duluth, MN. They came together in almost a strange and beautiful way and I really enjoyed exploring how to represent this song visually using the tools I had at hand."
"The imagery of the wildfire footage combined with the flowers in bloom work in stark contrast to each other and play off the eerily robotic school children footage. The juxtaposition is used to draw out the themes of contrasting dualities within the song itself. I chose the school children footage to work with because I think it echoes the sentiment of this repetitive day to day grind in conjunction with the unfolding of the natural world around us."
"I edited the entire thing in an app on my iPhone and I wanted to make something new out of something old. Duluth, as a city, kind of feels like it rides the rails on that same sentiment – making something new out of something old, and that's why I chose to film the shots of myself in the old canal with the ship passing through and on park point, which is a constant backdrop in my life. "
Looking towards future plans as LANUE, Krueger says, "With the pandemic putting a stop to most in person shows, I've been spending this down time working on new songs I'll be back in the studio this spring to continue working on new material. Be on the lookout for more releases [this year]."
Listen to album at Spotify
Purchase album at iTUNES
Website
Facebook
Instagram
Twitter
Bandcamp
Spotify
Apple Music