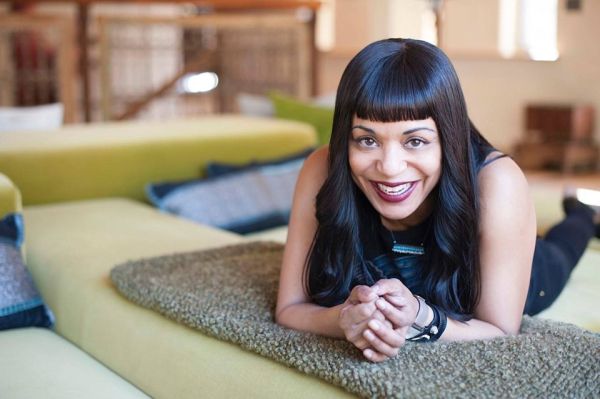 22 April 2019
Danielia Cotton – Photo courtesy of Danielia Cotton
"She Too" the new electrifying and soulful blues-rock single from New York-based singer-songwriter/musician Danielia Cotton and it stings with feminist potency as sharp electric guitars and crisp, raging vocals bite into a mouthful of patriarchal resistance. "She Too" was released on April 2nd via Cotton's own label, Cottontown LLC. The track was recorded in Brooklyn and features Matt Beck (Matchbox 20) on guitar.
The Big Takeover is proud to be hosting the premiere of its equally powerful and relevant accompanying video, which makes its mark as an unapologetic commentary on the current political climate stemming from movements such as #MeToo, the fight for equal pay, and the recognition of women of color.
The socio-econo-politically important video features quick-cut images from recent and decades-past marches, with protesters raising high their signs of frustration and resistance, and of defiance and persistence. As the dynamic and gritty song strides forward, Cotton's bold lyrical truths flash across the screen; statements like, "I was not born a man / but I can do anything he can.", which she proclaims with passionate triumph.
Danielia Cotton is a New Jersey-born artist who grew up inspired by the angst of rock and roll music. Carrying this turmoil into her songwriting, Cotton is currently inspired by recent issues of racial tension and female equality and has always turned to music to express her feelings about being a black woman in the music industry, specifically in the rock genre.
Cotton has released five albums, Small White Town, Rare Child, The Gun in Your Hand, The Real Book. and The Mystery of Me, as well as three EPs, Danielia Cotton, Woodstock Sessions. and A Prayer. Her last album was recorded in Brooklyn at Innsbruck Records, a studio owned by Roman Klun and Aaron Comess (The Spin Doctors).
She has worked with and shared the stage with Greg Allman, Robert Cray, Derek Trucks, and Etta James.
Website
Facebook
Twitter
Instagram
YouTube
Spotify