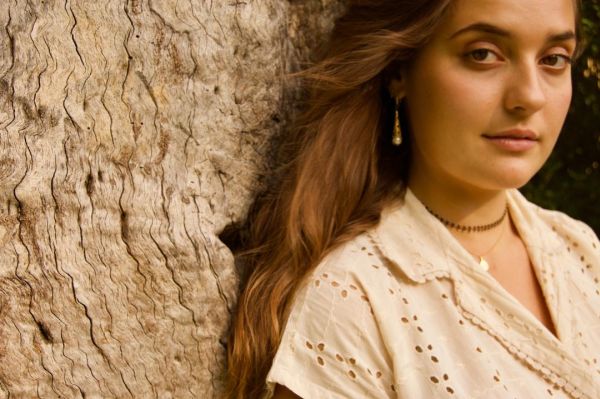 30 August 2021
Lila Blue – Photo Credit: Samantha Soule
You can tell when you're listening to an artist who has no choice but to express themselves through song. They're not merely drawn to music, it's their destiny. They have no choice in the matter. Such is the case with New York-based singer-songwriter Lila Blue.
Exuding a wisdom well beyond her years, poetry resonates out of her like brightly shimmering stars in the sky on a cloudless summer night. Her masterfully-honed baritone vocal range and deeply human, often devastating lyricism will stop you in your tracks. And it's all interwoven in a delicate, yet utterly powerful finger-picking acoustic guitar style. Her musicianship – and vulnerability – on full display.
"I hope you'll find me worth coming back to," sings Lila Blue on the final verse of her latest single, "Simple Song."
It's a straightforward sentiment for sure, but the indie folk artist's performance of the line is anything but simple. Lila Blue sounds coy and alluring, but her voice also reveals her anxiety — what if her lover doesn't come home? What if he can't?
Anyone who has ever waited by the window on a long night in quiet, nervous solitude (and haven't we all?) will immediately sympathize with the narrator's longing, disquiet, sense of destabilization, and fragility – and her patience.
"Simple Song" is the central track on Not Yet, the most recent project from the ambitious and prolific young songwriter. The four-song EP is Lila Blue at her most intimate and confessional – and given the candid emotional quality of her prior recordings, that's really saying something.
She's pared her music back to its essential roots: mesmerizing acoustic guitar patterns, resonant piano chords, and her own hushed, endlessly expressive voice, sometimes double-tracked, sometimes augmented by beautiful harmonies from friends Damon Daunno and Gabriel Ebert.
The economy and emotional intensity of Not Yet reflect the circumstances surrounding its creation. Lila Blue wrote and recorded these songs during some of the toughest days of the pandemic on her bathroom floor.
"Simple Song" is a love story, but it's also quite clearly about the experience we've all had: a chronicle of a time of separation, forced repose, and longing for togetherness. Call it a salve for loneliness and a cry across the void, and you won't be exaggerating.
Big Takeover is pleased to host the premiere of the poignant performance music video for "Simple Song."
The absorbing video focuses on two aspects; firstly, a vulnerable Lila Blue playing her song on acoustic guitar and sitting at a table, pondering over the personal travails that's she's encountered over a very tough year.
Secondly a dance-based performance by two people who enact through tumultuous emotions and movements the roiling turmoil of this past year.
Lila Blue reveals details of her struggles and the meaning behind the song and video, divulging, "When I began making this EP, I was at a very low point in my life. My grandfather had contracted COVID-19, I was still moving through a painful heartbreak from the Fall, and it felt as though the world as a whole – and my own life within it – was sitting on the precipice of an uncertainty that hadn't been encountered before."
"That feeling, and needing to know I could reach out to others who were feeling the same way through music, is what spawned this project. This EP, and "Simple Song" especially, holds a wish for the space that I was craving to reach with my own impatience, pain and uncertainty – and is symbolized in the final shots of the music video directed by the incredible Samantha Soule – which was the ability to sit alone at the table where I had been left, and simply wait. To know that whoever or whatever came to sit with me would come, and that in the meantime I could hold this time of solitude and grief for what it was; a lesson in having gratitude for missing what mattered most, and patience and acceptance around why it was gone in the first place."
"To be able to gather with the incredible team that came together to safely make this music video for "Simple Song" – which so beautifully articulates these emotions into a visual landscape – was an honor and gift that I may never be able to convey in words. All I hope is that in sharing this, those who listen and watch can come away from it with at least a sliver of the solace this project has given me over this past year."
Not Yet EP is available on Spotify and Apple Music
Next Thursday, September 2nd, at 9pm Lila Blue is performing in NYC at Rockwood Music Hall (Stage Three). You can purchase tickets HERE.
Website
Twitter
Instagram
Facebook