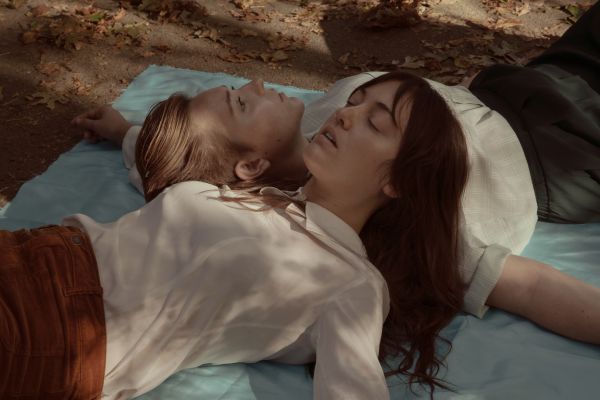 17 April 2019
The Harmaleighs – Photo Credit: Ruth Chapa – H&M: Drenusha Kolshi – Styling: Ded Grandpa
Nashville-based indie duo The Harmaleighs (Haley Grant and Kaylee Jasperson) are set to release their upcoming album She Won't Make Sense on August 2nd via Nettwerk.
Produced by Dan Molad (Lucius, JD McPherson, Tweedy), She Won't Make Sense is a stark contrast from The Harmaleighs' previous releases, having evolved from their acoustic beginnings to a fuller sound involving synths, strings, and drums. The album covers the full spectrum of sound, from heavier rock tunes to somber folk, to create the frenetic energy needed to convey the emotional weight of the record's subject matter.
Ahead of the album's arrival, The Big Takeover has the pleasure of hosting the premiere of the accompanying video to the upbeat and melodic "Sorry, I'm Busy", the sweeping lead single from the LP. "Sorry, I'm Busy" is a restless, beat-driven track about paralyzing social anxiety, and a fitting introduction to a concept album about mental illness, specifically Haley's deeply personal journey through anxiety, depression, and mania.
In the video, Haley and Kaylee at first do everything but be busy at a party, from standing around to lazing on the couch, before they break through the asocial barrier and rock out with choreographed group dance movements and performing for the crowd.
Of the song and video, Haley says, "It's the feeling of concentrating so hard on saying your name while you shake someone's hand that you have no idea what their name is. The tightness in your chest you feel mid conversation hoping there won't be a pause of silence. It's the feeling of remorse when you say 'Sorry, I'm busy' to your friends who are wanting to hang when in reality your body is melting into your couch and there's nothing you can do to stop it. "Sorry, I'm Busy" started as a hum I would sing in my car on the way home from work and turned into my personal cry for help. Visually, we wanted to portray a Wes Anderson meets '70s vibe party scene of how that feeling looks."
Catch The Harmaleighs on tour now
Website
Instagram
Facebook
Twitter