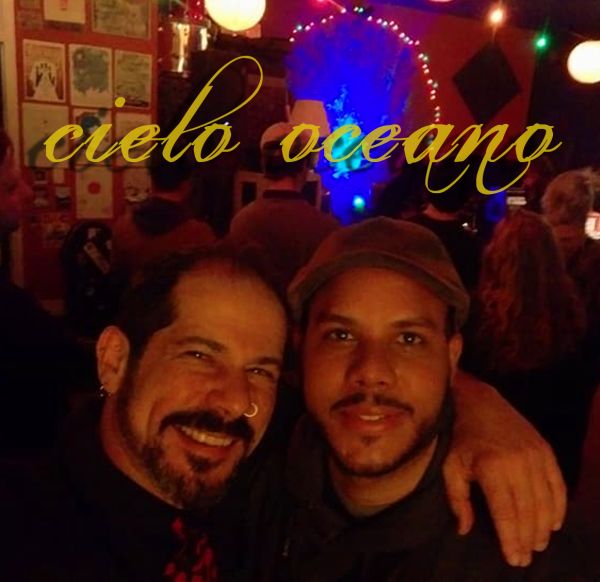 21 August 2019
Tom Lugo and Andres Lugo of Cielo Oceano – Photo courtesy of Tom Lugo
Ethereal dreampop act Cielo Oceano will be releasing their debut album, Space Has Always Reduced Me To Silence, this fall. Ahead of the LP's arrival, The Big Takeover is pleased to host the premiere of the title track and its accompanying video.
"Space Has Always Reduced Me To Silence" is a hypnotic voyage through lush cascading melodies, symphonic drones, shimmery guitars, and atmospheric textures that create a safe haven for the weary travel on their long road of self-reflection.
The video mirrors the spacey and floating atmosphere of the song, featuring slowly moving images of planets and starry galaxies spiraling in deep space. Iridescent hues bright illumination are contrasted by the inky darkness of the vast universe.
Cielo Oceano was formed in 2018 by Puerto Rican indie artist Andres Lugo and Philadelphia noise-pop artist Tom Lugo. Andres Lugo is known for his work with sonically charged projects like Pneuma, Los Dientes Hundidos En La Garganta, and Astrid Proll, as well as for his work in the independent music and arts scene in Puerto Rico. Tom Lugo's projects include Stellarscope, Panophonic, Under The Wire, and he is also the owner of indie label Patetico Recordings.
The had met over a decade ago when Tom held the Popnoise Festival in Puerto Rico back in 2007. Since then they have stayed in contact, keeping abreast of each other's musical ventures. Andres relocated to Baltimore in recent years and approached Tom about starting a project together.
Their first single, "Moth To A Flame", was released by the summer of 2018 and in the fall they released an exclusive single remix of a un-released track titled "Nada Mas Que Decir" on the international compilation Tsuitachi No Tori on Chip Music.
Space Has Always Reduced Me To Silence will be released on cassette and digital platforms this fall on Patetico Recordings / 3 Robots Records / Jak Jonson Tapes with artwork by Gardy Perez (of the Puerto Rican shoegaze band Un.Real).