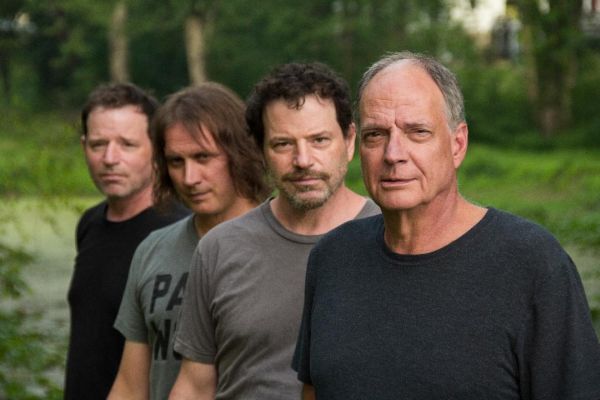 7 July 2021
Tobin Sprout – Photo Credit: Laura Sprout
Tobin Sprout is an American artist, musician, and children's book creator. As a musician, he was well-known as a founding member of the indie rock band Guided by Voices before going out on his own and releasing his first solo album, Carnival Boy, in 1996.
As an artist, Tobin Sprout is famous for his photo-realism large format paintings, especially the "Superchrome" series, although he does paint in other styles as well.
Upcoming "Supersonic Chairman" is a limited edition 7" single that will be sold only on tour and at Tobin Sprout's official WEBSITE.
The 7" is made up of two non-LP tracks with a 24-page full color booklet titled Objects, Wrestlers And Rayguns: Small Paintings By Tobin Sprout.
Big Takeover is pleased to host the premiere of the music video for the melodic and engaging track "Supersonic Chairman."
The song is awash in Tobin Sprout's short-phrase, yet drifting vocal cycles, gleaming guitar chime, shadowy bass line, and steadily pushing drum beat. The end of the number takes on another dimension with the addition of a psychedelic swirling sound that propels the song into the outer realms.
The video was shot in the studio and focuses on Tobin Sprout and his band-members Tommy Schictel, Steve Vermillion, and Gary Vermillon. The compilation of clips showcase how the outfit worked together in the studio environment when recording the songs from latest album Empty Horses, which came out this past September.
Tobin Sprout comments, "Brian Feldhandler and Cory Stenzel asked to film this session at Tommy's Goon Lagoon in Grand Rapids. I think the video captures the session well. They were easy sessions, things came together nice, quickly, mostly first takes."
"In the video we are recording parts of "Supersonic Chairman" (I'm playing Tommy's Jazzmaster), "On Golden Rivers" (I'm at the piano), and "The Man I Use To Know". The riff on "Supersonic Chairman" is the '59 Jazzmaster through an old Gibson GA 18 amp. Together they just had this beautiful tone."
TOUR DATES
Fri Aug 6 Listening Room, Grand Rapids, MI
Sat Aug 7 Yellow Cab, Dayton, OH *
Thu Aug 12 Jammin Java, Washington DC * *
Fri Aug 13 The Saint, Asbury Park, NJ **
Sat Aug 14 Beachland Tavern, Cleveland, OH * *
Fri Nov 12 Brooklyn Made, Brooklyn, NY * * *
Sat Nov 13 Brewbakers, Keene, NH* * *
Tue Nov 16 Johnny Brenda's, Philadelphia, PA
Thu Nov 18 Monarch Tavern, Toronto, ON
* with Nick Kizirnis and This Pine Box
* * with The Natvral (Kip Berman – formerly of The Pains Of Being Pure At Heart)
* * * with Surfer Blood
Tickets available HERE