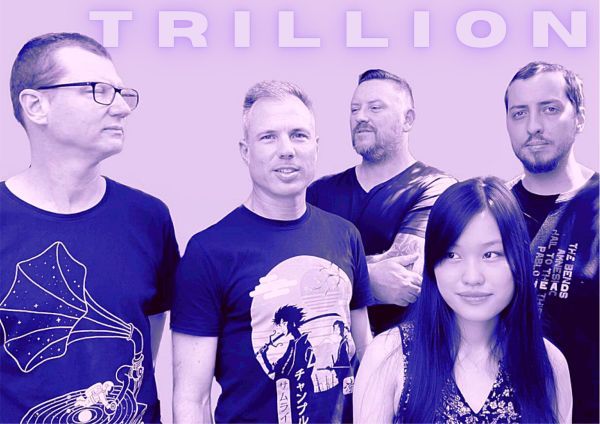 3 November 2021
Trillion – Photo Credit: Kate Bridle
Hailing from Sydney, Australia, Trillion are a 5 piece noise- pop band who share a love of sonic mayhem, a desire to craft indie soundscapes with pop sensibilities, and an unhealthy obsession with guitar pedals – it's not by chance that the band describes themselves as "shoegaze merchants from the land of Oz."
Their crashing wall-of-sound, as heard on their first two EPs, already earned them a loyal local and online following and shows in the best Australian venues.
Their new single "Sure" is the first taste of what's to come from the band's forthcoming Atomic Sunshine album.
Big Takeover is pleased to host the premiere of the music video for the textured and driving track "Sure."
Trillion's deep love of all things fuzz comes to the fore on "Sure," showcasing the band's strong songcrafting skills and artful ability to use the space between the harmonics to propel the listener forward.
"Sure" represents the dreams we weave, and the stories we tell ourselves when the light of day breaks and finds us alone with just the lingering fragments of sights and sounds left in our mind's eye.
The video, which was directed by Rosie Varela of El Paso, Texas-based shoegaze band EEP, shimmers brightly with colorfully lit-up digital to pixelated dots super-imposed on close-ups and long views of the band members performing the song.
"Sure" erupts with volcanic guitar power amid the pushing bass, shadowing bass line, and hazy vocal drift, blurring the line between reality and hypnagogic visions.
Recorded in isolation, with each band member contributing their parts separately, "Sure," and the single's companion track "Here's To Tomorrow," represent the ability of artists to overcome the barriers of physical separation and create as an integral part of life.