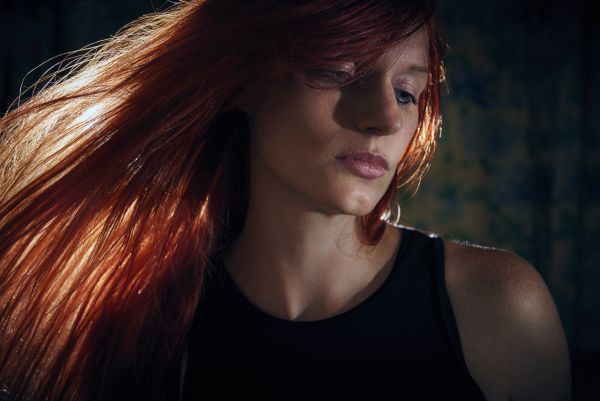 9 April 2019
Where We Sleep – Photo Credit: Nando Carniel Machado
London has been a steady source of great music for us over the past year and the premiere here just underlines this point. Today's announcements about two new PJ Harvey songs for use in the stage production of All About Eve is also timely for the introduction of an artist whose music shares so much in common with this iconic persona.
Enter Where We Sleep, led by Beth Rettig, a heady and delicious collective project. Officially announcing their debut EP Experiments In The Dark, they simultaneously present the lead single 'The Desert', a beautifully skewed and solitary offering that traverses melancholic and realistically brazen territory.
A winding, noir, and mesmerizing world opens up to the listener, and viewer, one that chugs forward with a wiry, yet resounding guitar line, sporadic tambourine tap, and steady drum strikes. Rettig's deadpan vocals ride confidently over the stark sonic landscape as she dispassionately admits, "I destroy myself / There's been no-one else.".
Rettig is best known as the vocalist of British indie rock outfit Blindness. Together with Debbie Smith of Curve, Echobelly, and SPC ECO fame (and also Snowpony with My Bloody Valentine's Debbie Googe and Moonshake's Katharine Gifford).
While Smith does figure on this new EP, this new project also involves collaborations with various other artists. 'The Desert' sees Rettig collaborate with Axel Ray of United Ghosts (and also The Black Windmill and Cadet A) on lead guitar. Ben Pritchard, formerly of The Fall and currently in Manc Floyd, contributes on a separate track.
With five tracks on offer, the Experiments In The Dark EP is a rich offering that fans of Garbage, The Black Ryder, Curve, Sleeper, SPC ECO, and PJ Harvey will find enthralling.
Recorded in various studios between London and Manchester, this is actually not Where We Sleep's first release. Last June, they released their debut two-track single 'Veins', followed by 'The First One' in August. The first of these was Rettig's bridge to a new project, so it comes as no surprise that Debbie Smith once again features here.
Raised in Africa (Nigeria, Botswana, and South Africa) and saying goodbye to the days of her Johannesburg band High, Beth Rettig returned to the UK in 2000 and eventually hooked up with Debbie Smith to form Blindness. They had a good run until playing their final gig in 2016, followed by The Monsoon EP in 2007, their final release.
"When Blindness ended – solely down to a change in my personal life – I didn't know if I was going to write again. Where We Sleep is the result of discovering that you don't know how not to make music," says Beth Rettig.
Rettig's music is rooted in an array of influences, including Black Rebel Motorcycle Club, Curve, EMA, Nine Inch Nails, Jesus and Mary Chain, Garbage, Kate Bush, Massive Attack, Patti Smith, PJ Harvey, Pete International Airport, White Rose Movement, and The Fall.
About 'The Desert' video, which The Big Takeover is excited to host the premiere of here, Rettig explains, "The road footage in "The Desert" video was taken when Axel and myself took a road trip to the Mojave Desert in California, with trips to Pioneertown and Joshua Tree National Park. It seemed a shame not to use those visuals, albeit affected, for the song. As the song came first, it was a cool realization that two people who did a song about driving through the desert together, were taking a road trip through the desert together."
Experiments In The Dark is slated for release on May 31 and will be available across digital stores and streaming platforms. It can also be pre-ordered via Where We Sleep's own Bandcamp.
CREDITS
Music and performance by Where We Sleep
Lyrics by Beth Rettig
Beth Rettig – vocals and instruments
Debbie Smith – guitars on 'Into The Light'
Ben Pritchard – lead guitars on 'Control'
Axel Ray – lead guitars on 'The Desert'
Mixing and Mastering by John Cranmer
Video by Beth Rettig and Axel Ray
TRACK LIST
1. What I Deserve
2. The Desert
3. Control
4. Into The Light
5. Experiments In The Dark
While you're here, do also explore the first two singles and support the band where possible.
Where We Sleep
Website
Instagram
Facebook
Twitter
Bandcamp
Spotify
SoundCloud
YouTube