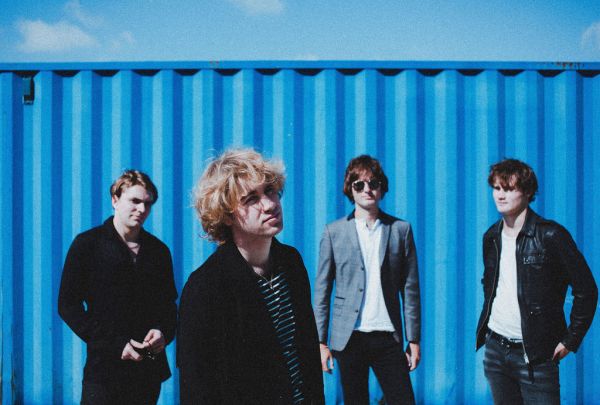 30 October 2019
The Velvet Hands – Photo Credit: Craig Taylor-Broad
Hailing from Cornwall county in England, garage rock 'n' roll band The Velvet Hands have been kicking up quite a dynamic ruckus in recent years. Critically acclaimed and with an ever-expanding fanbase, bandmates Toby Mitchell, Dan Able, Louis Mitchell,and Sam Hilder have been hitting the stage hard with their energized and engaging live show.
They've also put their rambunctiously rousing and tuneful tracks to record, with debut album Party's Over dropping last year via Zen Ten after releasing a string of singles that received much love at music sites/blogs (NME, BBC Introducing, Gigwise,Rebel Noise, and yes, The Big Takeover) and radio (BBC 6 Music, Radio X, BBC Radio 1).
The Velvet Hands have just wrapped up an incredible summer run of gigs (supporting Liam Gallagher, Fontaines D.C., and Paul Weller, and playing numerous music fests), including a headlining circuit through the UK that sported several sold-out shows. The band members are currently working on their highly anticipated second album.
Ahead of the new LP, the group recently bowed raucous lead single "Don't Be Nice To Me," as well as the amped-up, romping second track "This Feeling" last month via Jam X Recordings.
"This Feeling" is another undeniably infectious track that encompasses what the band are all about. Sounding somewhere in between Parquet Courts, The Strokes, and The Stones, the track jabs with an assured and animated swagger.
The band give some insight into the song's lyrics, stating, ""This Feeling" is a lo-fi love song about how frail relationships can be in the modern age. Social media can both spark and smother romance very quickly and it seems modern couples have no escape from each other."
The Big Takeover is super-stoked to host the U.S. premiere of the spirited video for "This Feeling." It's a casually boisterous and enthusiastically kicky performance videoclip that highlights all four members of the band doing what they do best – putting on an exciting show for the audience.
The black 'n' white footage of the band playing for the camera is sporadically stamped with rectangles of varied yellow and orange hues that flash and slide in time to the music. Intercut with this is a recent gig from the band that was shot at The Old Bakery in Truro. They blaze through the number with carefree brashness, delivering direct, no-frills rock 'n' roll straight, no chaser.
"This Feeling" at Spotify
Website
Facebook
Twitter
Instagram
YouTube